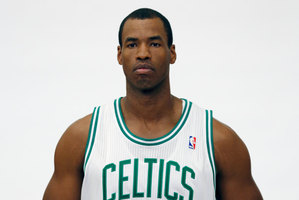 Sport is often credited with having the ability to break down social barriers, and never more so than during NBA journeyman Jason Collins' big coming out party this week.
Collins' brave decision to publicly reveal he is gay has been hailed as a landmark moment for professional sports in the United States, with the big centre the first openly gay athlete who is still active in one of the "big four" pro sports - the NBA, NFL, NHL and MLB.
When you think about it, it is a little strange that Collins has been so widely lauded for simply being honest. The fact that it is such a big deal only makes league hardman Ian Roberts' decision to come out back in 1995, when he was at the height of his career with Manly, seem all the more gutsy and courageous.
Eighteen years on, homosexuality remains one of the last real taboos in sport.
Late last year, when New Zealand was still debating the marriage equality bill, I pondered why no sports stars were willing to get involved with the campaign to legalise gay marriage after Mike King's repeated attempts to rally support from the sporting community.
That column prompted one Twitter vigilante to threaten to "out" any rugby players he had previously had ... ahem, relations with.
The whole discussion on the need for gay role models in sport is about empowerment and breaking down stereotypes. It is counterproductive to take that power away from someone by trying to "shame" them into coming out.
We should not be demanding that all the gay athletes reveal themselves - that is a very personal decision only the individual can make. But we should be asking why, in 2013, do athletes still not feel comfortable being open about homosexuality?
The answer could lie in the way Collins is received in the NBA next season.
Since his raw, honest and occasionally humorous account appeared on the Sports Illustrated website, the 34-year-old has been bombarded with messages of support, with many NBA stars, including Kobe Bryant, Steve Nash and Metta World Peace expressing their admiration for their colleague (as if the last had any choice with that self-title). Collins has also had phone calls from President Barrack Obama and Oprah Winfrey (the President's publicity manager), and other high-profile celebrities.
But a few phone calls and virtual high fives is not the locker room, where some teammates could be less accepting. Nor is it a basketball court, where the opposition may resort to cheap sledges and fans might voice their displeasure.
There is a real brotherhood mentality in sport; to be ostracised in that environment could be extremely damaging for an athlete. But the lack of gay role models in sport can be equally damaging in society. Gay athletes can encourage inclusiveness and acceptance in sport, helping youths who may be struggling with their sexuality. Collins recognises this.
As he told the New York Times this week - "It's time for me to pave the road for somebody else, to be a great teammate, society being the team."