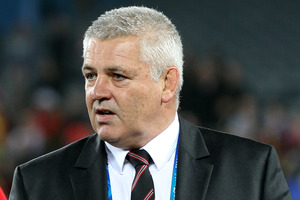 Lions coach Warren Gatland says his tour squad will be ready for any psychological warfare that comes their way in Australia.
Asked if he was expecting mind games or attempts to influence the referees from Australian officials or the media, Gatland said it was part of professional sport.
"The best thing about Australia is their desire to win. They're incredibly competitive and we have to be prepared for anything media-wise or from coaches or former players to potentially have an influence.
"[Former Australian Rugby Union chief executive] John O'Neill in the past has been a master at that and has had a big influence," Gatland said.
"That's part of our job to do something about covering off every eventuality that potentially could happen."
New Zealander Gatland came in for criticism in February when he was reported to have said picking a large number of English players for the Lions tour would bring more pressure on the squad.
He claimed yesterday his comments had been taken out of context and said the reaction to the article "rattled me for a few days".
"It was a good example of what may happen for us on tour and how we've got to guard against ourselves."
The Lions squad features 10 Englishmen and nine Irishmen but is predictably dominated by Gatland's Six Nations-winning Wales squad. Gatland didn't feel the presence of 15 Welsh players in the squad, captained by young Wales star Sam Warburton, would create problems, saying it was simply a reflection of form.
"The last two tours have been no different; 2009 originally started with about 15 Irish players, because they'd won the grand slam. In the last two years Wales has been really successful ... and 2005 I think there was about 20 English players."
The large Welsh contingent must overcome a poor record against Australia, Wales losing all tests against the Wallabies in the past two years.
- AAP