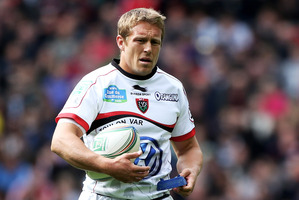 Lions coach Warren Gatland would have selected three first five-eighths for the tour of Australia if Jonny Wilkinson had not turned down the offer of a place.
His imperious display for Toulon in their Heineken Cup semifinal win against Saracens at Twickenham 24 hours earlier had thrust Wilkinson to the top of the agenda of the final selection meeting on the eve of yesterday's squad announcement in London.
Ultimately, though, the prospect of Wilkinson - 34 this month - finishing his glittering career with a third Lions tour was decided by the former England pivot.
His commitment to Toulon, who may feature in the French Top 14 final on the day the Lions play their opening tour match against the Barbarians in Hong Kong on June 1, and concerns that his body would not stand up to the rigours of the seven-week, 10-game tour of Australia, prompted him to decline Gatland's offer.
"Jonny wasn't available," said the Lions head coach, who had been expected to select 38 players but significantly named only 37 yesterday. Wales flanker Sam Warburton, as expected, was named captain, with Ireland hooker Rory Best and England flanker and skipper Chris Robshaw the most high-profile omissions. "I rang Jonny on Monday to sound him out," Gatland said. "I was really impressed with the way he played for Toulon against Saracens.
"I asked him if he could tour and he said he wasn't available.
"I wouldn't have made the phone call if it wasn't to offer him a place on the tour. I told him that we wanted everyone on the tour to be on the plane to Hong Kong and he couldn't make that commitment because he's committed to Toulon. He appreciated the call, but he said he's struggling with his body and managing himself week to week. I think physically he would struggle to do a tour."
Wilkinson, who toured Australia with the Lions in 2001 and New Zealand in 2005, could yet play a role on the tour as an injury replacement while Scotland fullback Stuart Hogg will act as the third back-up for the five-eighths position on the tour.
"We had the discussion about if someone picks up an injury," Gatland said about the possibility of Wilkinson being a standby player.
"There was no 'yes' or 'no' from him. He wasn't quite sure if he was going to have an operation in the off season. He is not doing a lot of training and he said he was hanging on by his fingernails. To take someone like that on the Lions tour and get through the physical demands that there are would be hard. But if one of the 10s get an injury and is a couple of weeks out and Jonny is fit and available, then that's another discussion. We left it open-ended."
While Gatland insisted that there was logic in the decision to take just two five-eighths, in Ireland's Jonny Sexton and England's Owen Farrell, as both would get significant game time in the lead-up to the first test, manager Andy Irvine confirmed that major consideration had been given to taking three 10s. "I think there's a very serious probability we would have taken three," Irvine said. "Jonny's recent form is such it was remiss of us not to look at it very seriously. But the fact is he's more or less ruled himself out.
"I think he left the door open slightly. If there are any injuries in the No 10 position he'd be willing to take a phone call and perhaps reconsider.
"Had he said 'I'm your man, I'm desperate to play for the Lions, I'm really up for it', I think Jonny would have been on that trip. He didn't."
Gatland confirmed that Wilkinson's Toulon teammate Gethin Jenkins will be allowed to depart for Hong Kong with the squad on May 28.
"I personally feel very passionate that if you want to play for the Lions you just prove to us that you want to play for the Lions," Irvine added. "All the lads that have gone over to France have been able to plan well in advance whether they're available. Four years ago Nathan Hines was so determined to tour he walked out on Perpignan. That's the attitude we're looking for. If you've got that attitude it shows us what you're all about."