Rollercoaster ride for punters ahead of Friday's Rowe Cup.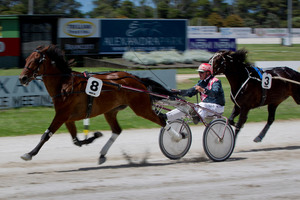 Where once there was great confidence and awe, now there is hope and crossed fingers.
That is the journey heroic trotter Stig has taken punters on since a brilliant Christmas, a rollercoaster trainer Paul Nairn hopes hits a career high in Friday's $150,000 Canam Rowe Cup.
After downing arch rival I Can Doosit twice in national record time around Christmas, Stig was the story of the harness racing season.
The 10-year-old prodigal son of trotting, returning from a three-year retirement with a world of riches at his hooves.
The only problem is those hooves are connected to some dodgy old legs and the soreness inside them has once again halted Stig's march to greatness.
He could have, maybe should have, won $500,000 worth of races this year, instead he has crabbed his way around Menangle, Melton and last Friday night Alexandra Park, costing punters a fortune and Nairn plenty of sleep.
The issues have ranged from track surfaces to cornering issues, all associated with slight soreness.
"He seems good as gold most of the time and in his final workout at home before I was thrilled," said Nairn.
"But he either lost concentration last Friday or something. I really don't know because he seems good again this week.
"So rather than going into the race really confident like I was at Christmas time, I am hoping he produces his best."
Even well into the veteran stage and with legs of rubber, Stig would win Friday night's group one with a peak performance.
But if he hitches his way around Alexandra Park then Vulcan and Stent will have too much speed for him.
Which means punters should get a shot at around $6 fixed odds for the grand old man of trotting on Friday, a price that comes with compulsory finger crossing.
Those odds will look giant compared with what the TAB opens Christen Me in Friday night's Messenger Pace, especially after NSW pacer Excel Stride was scratched.
The latter's possible New Zealand campaign ended with a poor Miracle Mile performance on Sunday and Christen Me, with barrier four on Friday night, has opened $1.12 with one Aussie bookmaker.
He won't start that short on the tote but he won't be much longer either.
The only newcomer to the field he thrashed in last Friday's Taylor Mile is Easy On The Eye, who won't appreciate either his second line draw or the 2700m distance.
The meeting also features a tricky Northern Trotting Derby, where all three favourites have drawn wide and the $170,000 Sires' Stakes Championship, which could be the defining race of the two-year-old pacing fillies' season.
Meanwhile, outstanding three-year-old pacer Franco Nelson has changed stables.
The Sires' Stakes winner was trained by Steven McRae until recently being transferred to Robert Dunn so he could be beach trained.
One of the most talented pacers in a vintage crop, his main targets now appear the Jewels and the Australasian Breeders Crown, with regular reinsman Craig Thornley to retain the drive, at this stage.
And Sydney stewards will hear a charge against trainer Darren Binskin today relating to the forced scratching of Gaius Caesar from Sunday's Miracle Mile.
The pacer was pulled out of the race after Binskin admitted administering a mineral-based tonic to him after the 8am raceday cut-off.
A hearing centred on the McCarthy stable and the change of tactics controversy in the Miracle Mile will be heard next Monday.
Last chance?
* Stig is looking to put a frustrating season back on track in Friday night's Canam Rowe Cup.
* The veteran trotter only needs to trot squarely throughout to be the horse to beat.
* Friday night's meeting is one of the strongest of the year at Alexandra Park.
* Exciting three-year-old pacer Franco Nelson has changed stables.