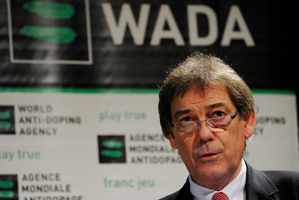 All three Australian oval ball codes are caught up in peptide scandals, and the use of human growth hormone variants is said to be rife in boxing.
As many as 31 NRL players at seven clubs are reportedly being investigated by the Australian Sports Anti-Doping Authority.
Australian media have reported that up to 11 players at Cronulla were injected with the banned substance CJC 1295 in 2011.
In the AFL, the peptide scandal that engulfed the Essendon club - with the entire squad under suspicion - has spread to the off-field staff.
The club's former sports scientist, Stephen Dank, claims he injected coach James Hird with hexarelin - a substance banned by the World Anti-Doping Agency in 2004.
While the Australian investigation isn't believed to be targeting union, four lower-level rugby players are serving bans for peptide use.
Sunshine Coast teammates Francis Bourke and Trent Anderson were banned for possession and attempted use of GHRP-6.
Anderson is serving a two-year ban, and player-coach Bourke, who was also sanctioned for trafficking the substance, received a four-year ban.
Mitchell Spackman, who played for the Kiama club, received a two-year ban for attempting to import GHRP-6.
North Queensland club player Brendan Bunyan was suspended for attempted use of insulin-like growth factor-1 (IGF-1).
A source with close ties to the American professional boxing scene told the Herald peptide and growth-hormone use had been rife in the sport for years. The substances were popular because of their lack of detectability and their ability to help fighters bulk up and move into heavier divisions.
An Australian Crime Commission report in February alleged widespread peptide use in professional sport and links to organised crime.
While some sports bodies and testing agencies have questioned the effectiveness of peptides, World Anti-Doping Agency director-general David Howman is in no doubt they are both effective and a problem for global sport.
"They are [effective]. And a lot of people don't just take peptides or growth hormone by themselves. They take a cocktail of substances including testosterone and others, which gives an even bigger effect. And when you are talking elite athletes, a 0.5 per cent kick is enough to take you ahead of your opposition."