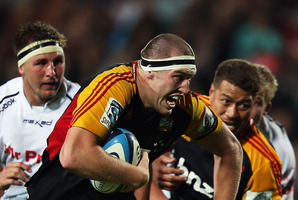 After Brodie Retallick's stunning first Super Rugby season which resulted in an All Blacks call-up and a title with the Chiefs, second time around was always going to be bit of a challenge.
And so it has proven for the 2.04m lock who is still only 21 - his 22nd birthday is on May 31 - not that it has anything to do with how he is playing.
The difference this year is preparation time. Last season, unencumbered by All Blacks duties, he enjoyed a long and fruitful pre-season. This time, he has had to work his way into things after a much more limited lead-up.
He believes it has made a significant difference but he is still one of the Chiefs' most consistent tight forwards, starting eight of their nine matches and generally doing exactly what is expected of him.
Steve Hansen likes his forwards to concentrate wholly on their core roles so the All Blacks coach is likely to be pleased with what he is seeing of Retallick, who is likely to add a few more frills as he progresses into the business end of the competition for the New Zealand conference leaders.
"It's a different challenge this year, especially not having the big pre-season like I did last year but I'm building into it now," Retallick said. "Eight or so weeks of pre-season training under your belt heading into the first match, it's definitely going to help, compared with a couple of weeks."
There are other factors which will make this season tougher for Retallick, who played 13 tests last year after making his debut in the first test against Ireland. The Chiefs as defending champions have suddenly topped everyone's hit-list, and while they have coped fairly well so far - dropping only three matches - it's not going to get any easier. The Crusaders found after winning the first of their seven titles that the opposition invariably played above themselves against them.
Two issues the Chiefs must quickly get to grips with are a lack of directness among Retallick's colleagues in the pack and a leaky defence, two things they mastered last year in their march to the title.
That comes down to mindset, and that lack of intensity was exposed by the Reds and Waratahs over successive weekends before creeping in last weekend at Waikato Stadium following the Chiefs' stunning start against the Sharks.
"It's probably our biggest challenge this year," said Retallick of improving the collective attitude.
"We probably haven't prepared quite right or brought the right attitude to games, and that has showed. Last weekend I looked up and suddenly we were 20 or so points up at one stage. We probably thought it was going to be easy the whole way through. Credit to the Sharks, though, they played well and we had to dig deep to get the win."
It makes Friday night's game against the Rebels in Melbourne all the more important. The Rebels showed in their narrow loss to the Crusaders in Christchurch that they have the players and determination to be more difficult than their modest record suggests. For the Chiefs, preparation and attitude are going to be imperative.
"They like to keep the ball a lot and have a dangerous back three and James O'Connor too, who is playing well," said Retallick. "Kurtley Beale could be back so they're a team that can't be underestimated. They have some great attacking players."