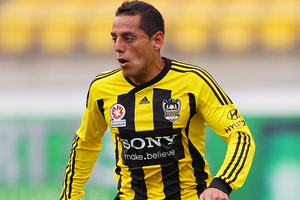 Leo Bertos has kicked off the biggest week of his life by signing a new contract with the Wellington Phoenix.
On Saturday the 31-year-old will sign another contract when he marries his partner of four years, Regan Kinnaird, and he is delighted to have the security of a new one-year Phoenix deal with the option of a further year.
"It is good to get it over the line, especially as I'm getting married this weekend,'' Bertos said. "It's nice to know the club wanted me to stay because I definitely wanted to be here, and it is one less headache in what is a hectic week.''
The club signed him even though they haven't installed a new coach for the 2013/14 season. The Phoenix are keen for a new coach to start soon so he can start building a new squad.
Bertos was one of a number of players off contract at the end of last season, when the Phoenix finished last in the 10-team league.
Bertos, who began his professional career with English club Barnsley in 2000 and joined the Phoenix eight years later after a two-season stint with Perth Glory, acknowledged it had been a difficult year for everyone connected with the club.
Making it even more challenging for Bertos was a switch to right fullback after playing most of his career as a wide midfield player.
"It wasn't easy but I actually enjoyed my stint at right-back and I've played a similar role in the national team'' he said. "Football is a team game and if you are asked to play a different position then you just get on with the job.
"I thought I did alright there, but I am more natural going forward and with the way we performed this season I didn't get as many opportunities to do that as I would have liked.
"You watch the top leagues overseas, and also the A-League, and see fullbacks getting forward a lot and that's what I hoped I could do. The way the season went my No 1 role was to defend and I had to learn quickly.
"In the past we have been a hard team to break down defensively but that wasn't the case this year. We have to learn from that and get back to not conceding goals easily.''
The Phoenix have already signed former Melbourne Victory midfielder Carlos Hernandez, who will join the club after a stint in India.
Phoenix general manager David Dome said he was delighted Bertos is staying with the club.
"Leo is a core member of the squad,'' Dome said. "We began negotiations with him some time ago and I am really pleased he has agreed a new deal.''
- APNZ