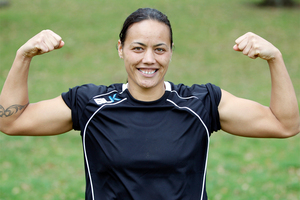 She's won two rugby league world cups. She's also a star of the national rugby sevens team - earning the nickname "Honey Bill Williams".
While Sonny Bill Williams has been making headlines (and millions) on both sides of the Tasman, his female equivalent, Honey Hireme, has been achieving on a similar level with little fanfare.
Hireme has serious talent (twice named New Zealand player of the year), she has the "guns" and, just like Sonny Bill, she's a bit special.
The 31-year-old Hireme is one of the stars of the Kiwi Ferns, the New Zealand women's rugby league team. They have won the past three World Cups (2000, 2005 and 2008) and are preparing to defend their title in July in England.
And just like Williams, Hireme has mastered two codes. She has played rugby for more than a decade and has played for New Zealand on the IRB women's sevens world series.
The final squad is yet to be selected but Hireme is a strong contender to make the cut for the New Zealand side for the sevens world cup in Moscow in late June. The league world cup starts the day after the rugby finishes, which will mean zero recovery time as Hireme makes the dash across Europe from Russia to England.
"If it happens like that it's going to be pretty full on," says Hireme, "but I still need to get selected for each tournament."
"We have discussed the situation at senior management level and we had no hesitation in giving our blessing," says Kiwi Ferns coach Lynley Tierney-Mani, of Hireme's possible appearance at the back to back tournaments. "Why would you stop someone doing something they love?"
Just as in rugby, women's league is on the rise. Playing numbers are on the up and this year's world cup is set to be the biggest ever.
"People are always surprised when they watch women's league," says Hireme. "There is a lot of skill and big hits. It's not just a bunch of girls jersey-pulling."
Watching Hireme in action, you can see the fuel for the SBW comparison. She is a smooth, languid runner with a presence about her on the field. Like Williams, she is also a game-breaker, known for her try-scoring ability, strength and speed.
"Her nickname at [last year's] national tournament," explains Tierney-Mani. "But even on the side line there were people saying 'that girl's like Sonny Bill'. She's got a big fend, a great offload and a definite X-factor."
"I don't know if I can live up to the comparison," laughs Hireme. "Everybody says I have the fend but I don't know if I have too much else. He is definitely a role model though."
Tierney-Mani says a lot of the younger girls in the Ferns get "a bit star-struck" around her. "She probably doesn't realise how good she is but she has that edge of star quality around her. It was probably quite fitting she got that branding."
"It's always a privilege to play beside her," says long-time team-mate Rona Peters. "She has the talent to jump between codes."
Sonny Bill and `Honey Bill' have met on a couple of occasions, arranged through Williams' former Chiefs and All Black team mate Liam Messam. Messam coaches the Waikato womens' senior side in Hamilton and got Williams along to training on a couple of occasions.
"It was good to meet him but I didn't say much," laughs Hireme, "I was a little bit awestruck to be honest."
Hireme's life has revolved around sport. She started playing league with her older brothers as a five year old and has been a mainstay of New Zealand sides for over a decade. Like many of her team she plays rugby on a Saturday and league on Sunday, making the trip from Hamilton to Auckland up to four times a week. A typical day for Hireme, who has three children, starts in the gym at 5am. T
hen there is a full day's work at Life Unlimited - a charitable trust that facilitates self-development programmes for people with disabilities - before evening rugby or league training. The two codes have taken her around the world - she has played in Houston, Rome, Beijing, Hong Kong and Rarotonga and she has an eye on the 2016 Olympics in Rio.
Meanwhile, the Warriors were unveiled last Saturday as the new major sponsors of the Kiwi Ferns. Co-owner Sir Owen Glenn announced the arrangement, which continues a commitment to grassroots league by the NRL club, following their investment in the recently-launched college league 1st XIII premiership competition.
Hireme and the Kiwi Ferns have been untouchable on the world stage, winning all three women's world cups comprehensively.
"We have improved since then but it's harder now," says Hireme. "Everybody wants to take us down; it won't be a walk in the park to retain our title."