Furious horse owner accuses high-profile trainer and bookie son of 'conflict of interest'.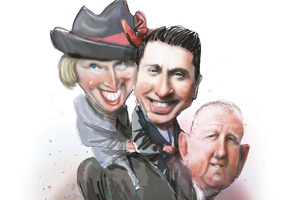 Australia is being treated to another saga of power, wealth and politics as a feud within the aristocracy of racing and advertising spills into the glare of the nation's media.
The spat that erupted at Sydney's Randwick track on Saturday embroils the Waterhouse bookmaking dynasty, its immensely wealthy trainer Gai Waterhouse, her son Tom, the fast-rising internet betting titan, and John Singleton, a powerful advertising and broadcasting entrepreneur.
On the sidelines are anti-gambling advocates who see in the row a chance to further their cause, and the many Australians who consider young Tom an over-achieving upstart trading on greed and vulnerability.
Tom's smiling face, with his gee-whiz enthusiasm of the grammar school senior prefect he was, leaps out from countless TV screens during almost any sporting event you can name.
Now the fourth-generation bookie is at the centre of what is developing as a very nasty - and probably extremely expensive - spat between his mother Gai and Singleton, a close family friend for decades whose daughters grew up with the young Waterhouse.
Gai Waterhouse and Singleton have previously had a few tense moments, most recently when the trainer placed Singleton's mare More Joyous in an outside barrier at last year's Cox Plate in Melbourne. She was trapped wide and finished 11th.
Singleton reportedly later removed several horses from the Waterhouse stables and sent them to other trainers.
At Randwick, More Joyous, with 21 wins from 31 starts and a career prize bag of about A$4 million ($4.8 million), was second favourite for the 1400m All Ages Stakes. Singleton had planned to back her with a A$100,000 punt.
But his horse faded, finishing 7th, and a furious Singleton accused Gai Waterhouse of knowing More Joyous was unwell and alerting her son Tom, who then allegedly passed the news on to others.
"Tom has been saying she has got problems and I don't know about them," Singleton said.
"All I'm saying is that as an owner there's too much conflict of interest [between the Waterhouses]."
He had his horses trucked from Waterhouse's Randwick stable early on Sunday morning. Gai Waterhouse had refused comment but her son, who said he had lost A$300,000 on More Joyous, has denied Singleton's allegations.
"I didn't even know More Joyous had any problem until John Singleton came on the TV and mentioned it," he said.
"I never mentioned it to anybody. I never knew anything, I never heard anything, I never said anything to anyone."
Waterhouse intends consulting his lawyers about a possible defamation action.
An initial steward's inquiry was told More Joyous had been treated by a vet on Thursday for a neck problem, but a further examination on Saturday morning had declared her fit to run.
A widened inquiry will resume on Friday, extending into Singleton's allegations of conflict of interest, More Joyous' fitness to run, and whether the mare's neck problem should have been reported to the stewards.
Anti-gambling activists, prominent among them South Australian Senator Nick Xenophon, want an even tougher examination. Xenophon's call for a parliamentary inquiry has so far won little support.
The Waterhouse family is an easy target.
Tom's great-grandfather was one of the colony's first bookies.
Grandfather William "Big Bill" Waterhouse was one of the world's biggest bookies in the 1960s, and father Robbie followed prominently in his footsteps.
Both lost their licences over the notorious 1984 Fine Cotton ring-in, although neither was proven to have been directly involved in the scheme to swap a crudely-disguised stand-in for Fine Cotton at Brisbane's Eagle Farm.
The scandal hit Gai Waterhouse, the privileged child of prominent trainer Tom Smith and a former actress who had appeared in the 1978 series of Dr Who, and in Australia's Young Doctors.
Her application foundered on her marriage to Robbie Waterhouse, but using anti-discrimination laws she won her bid and became a star of equal opportunity.
Son Tom was drawn into the family business in 2003, and within five years was Australia's biggest on-course bookie before launching his online betting operation. British bookmaker Ladbrokes was reported to have sought half of a business it valued at up to A$300 million.
Now the family is lined up against Singleton, another Australian legend who clawed his way up from blue-collar Sydney to become a giant of advertising. "Singo" championed the Ocker accent when all others were using American or British English, evoking a blokey image that still resonates in the suburbs.
He created campaigns for former Labor Prime Ministers Bob Hawke and Paul Keating. Singleton gave Hawke shares in two horses, and the pair shouted the bar after winning the Golden Slipper at Randwick. Dozens of people reportedly raced there by taxi to join in. Singleton's interests now also include the Macquarie radio network, which owns top-rating talk shows in Sydney and Melbourne, publishing, and thoroughbreds.