Invercargill chips in $20,000 to offset losses after Netball NZ considered moving test.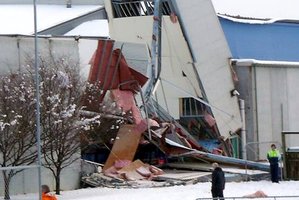 An Invercargill community organisation and the local city council have forked out $20,000 to prevent Netball New Zealand from taking the opening Constellation Cup test to another centre.
The netball-mad city was in danger of losing the September 15 transtasman test with the redevelopment of Stadium Southland well behind schedule. Due for completion in July, the stadium, which was damaged in a heavy snowstorm in September 2010, is not expected to be finished until October.
The delay prompted Netball New Zealand to consider a location change for the test.
But the national body yesterday decided Invercargill's back-up option - a drop-in court at the Stadium Southland velodrome - would be suitable.
It helped that the Invercargill Licensing Trust and the city council chipped in with $10,000 each, in an effort to mitigate the loss in gate-takings Netball New Zealand would face at the smaller venue, which seats just 2500.
Netball New Zealand chief executive Raelene Castle said she was pleased Invercargill could retain the test match and paid tribute to the support of the local organisations.
"Obviously it was disappointing for Stadium Southland that they can't use this Constellation Cup test match to officially open their excellent new venue. It is greatly appreciated by NNZ that the ILT and the Invercargill City Council have partnered with us to ensure Invercargill still has the opportunity to host this event."
It will be the second netball test at the makeshift venue, with the Ferns wrapping up a three-test clean sweep against England in late 2011, in what proved to be former coach Ruth Aitken's last game in charge.
Invercargill Mayor Tim Shadbolt said the ICC's events committee had approved a $10,000 grant for the test.
"We were quite shattered by the collapse of what was essentially our netball stadium," Shadbolt said. "Now to be able to use the velodrome and get 2500 people in there for an international test is a tremendous boost for the city.
"We're still there flying the flag for netball and I know our Invercargill crowd will be enthusiastic and loud enough to make up for what we are lacking in seating capacity."
Auckland's Vector Arena will then host the last test on home soil on September 19 before the Silver Ferns cross the Tasman and play in Adelaide (October 4), Melbourne (October 7) and Canberra (October 13).
•Former Australian captain Kathryn Harby-Williams has been elected to Netball Australia's board for a one-year term.
Harby-Williams, who returned to Australia with her family this year after being based in New Zealand since 2004, said she was excited to get the opportunity to have an input into the direction of Netball Australia.
"Board positions are strategic positions so I want to be able to contribute to the growth of the sport, to maintain its current position and then provide some input into how we can move forward and take the next step," she said
The South Australian defender played 94 tests for the Diamonds, including 35 games as captain, in an international career that spanned 13 years from 1990-2003 and included two Commonwealth Games andtwo world championship gold medals.