Blues coach to question Sanzar boss on maul ruling.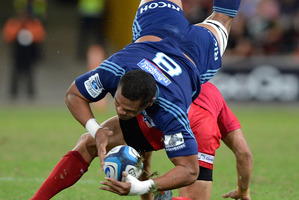 Rene Ranger is in Middlemore Hospital with an infected finger and John Kirwan was without Charles Piutau and Steven Luatua through illness yesterday, but a more pressing matter for the Blues coach is an impending conversation with referees boss Lyndon Bray.
Kirwan was left perplexed by some of the rulings from Craig Joubert regarding the maul in the 12-11 loss to the Reds in Brisbane, a tactic sure to be used by the Stormers at North Harbour Stadium on Friday.
"I'm talking most weeks to him," Kirwan said of Sanzar referees' boss Bray.
"I'll talk to him this week getting feedback on how he thought the ref went and what we need to do better. I think the maul is a real interesting one this week. We need to make sure that we can legally stop their maul so that's something I need some clarity about.
"We felt we stopped the Queensland maul on the weekend but we got penalised, so just a bit of clarity [is needed].
We need that against all the African sides because they're very good at it.
"I thought especially in the last 10 minutes some decisions didn't go our way but the Reds will probably [think] the same. We just have to roll with it and make sure we stay clean."
The Blues felt they travelled through the middle of the maul to disrupt the Reds, which is legal, only for Joubert to rule otherwise on a couple of occasions.
The Stormers scored a try with their rolling maul in their 18-16 victory over the Hurricanes at Palmerston North and are unlikely to deviate too much from a game plan which is based on lineout dominance, a driving maul and suffocating defence.
In-form centre Ranger is likely to be available despite a finger injury which left him in hospital on a drip. Fullback Piutau and flanker Luatua have the flu and are likely to be fine also, said Kirwan.
"It is week 11 for us so we knew people would be tired. Most of the guys that are hurt or are sick have played the biggest numbers. Charles has played every minute of every game and has done every training run so we expected this.
"Everyone's tired. It's mid-competition and we have to be careful about how much work we do on the training field."
The news isn't quite as positive for hooker James Parsons, who has a neck injury, which will likely lead to Keven Mealamu starting his first game of the season.
Lock Anthony Boric, unavailable for the Reds defeat because of another neck issue, will see a specialist today. Boric was close to calling it quits last year because of the seriousness of his neck injury but decided on surgery and made a full recovery.
Second-five Francis Saili and wing George Moala will be available for selection after being dropped from the starting line-up and squad respectively for breaching team protocols.
Kirwan believed the Reds defeat, in which his side scored the only try, could be a good launching pad for the rest of the season.
"We've matured," he said. "The guys have realised they can compete with the best, so it's great for our confidence." APNZ
- APNZ