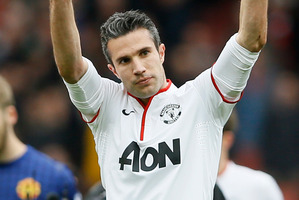 Arsene Wenger says he and the Arsenal players still consider Robin van Persie their friend, in spite of a low-key demonstration of hostility from fans towards the club's former captain on the occasion of his first return to the Emirates yesterday with Manchester United.
Van Persie scored his 25th Premier League goal of the season, a penalty, to give United a 1-1 draw after Theo Walcott had opened the scoring.
He applauded the United fans at the end and was booed as he went down the tunnel by the Arsenal supporters, but Wenger announced at his post-match press conference that the player had been in the home dressing room to see his former teammates.
Asked whether the Arsenal players still got along with Van Persie, Wenger replied: "Of course." He added: "People who have played together for five or six years, they [still] fight on the pitch. I think our defenders didn't make life easy for him at all. We played with great commitment. And I feel our two central defenders played very well."
Wenger said: "We are rivals but look, at the end of the day, we decided to sell him. You want us to make a guard of honour and to respect the champions but you have to accept as well that respect exists after the game. You want to give absolutely everything for the 90 minutes and after the game you can still talk to each other."
As for the fans' reaction to Van Persie, Wenger said: "When he was here he didn't get this kind of reception, they loved him so today it was a little bit 'disappointed love'.
"I don't think he scored, he scored a penalty. It counts but it's not completely the same. When you buy a goalscorer you always look at how many goals he scored with penalties and how many he scored in open play.
"But he took his penalty very well. I know when he decided to take the penalty that it was 80 per cent he scored. He was our penalty taker. He does that very well."
The result leaves Arsenal fourth with three games to play. They are two points clear of Tottenham in fifth, although Spurs have one game in hand, against third-placed Chelsea, who beat Swansea yesterday. Asked where the result left Arsenal, Wenger said: "With no room for dropping points, we know that."
-Independent