Bayern and Dortmund superstars' pursuit of glory has shown Bundesliga at its best.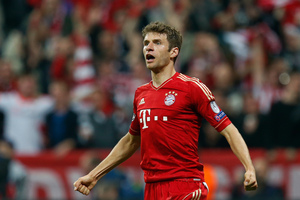 An illuminating 48 hours in Munich and Dortmund, covering Germany 8 Spain 1, left many distinct impressions. It was not simply the swashbuckling football and sensible, sustainable fan-friendly economic model of the Bundesliga arousing such admiration. It was not only the sleek conditioning of many of the stars in the land of a winter break or the clubs' understanding of the need to cultivate talent for Germany's benefit and their own. It was something else.
What really stood out during Bayern's 4-0 thrashing of Barcelona and Dortmund's 4-1 defeat of Real Madrid was how many of the players were totally fearless. From Thomas Muller to Mario Gotze, Bastian Schweinsteiger and Philipp Lahm to Ilkay Gundogan and Marco Reus, the midweek was graced by psychologically strong individuals quick to take responsibility. And those were just the Germans.
Mix in accomplished Poles like Lukasz Piszczek and Robert Lewandowski, commanding Spaniards such as Javi Martinez and nimble Austrians like David Alaba and the Bundesliga is stocked with intelligent, robust men taking charge of situations last week.
The journey to the first of what the German football newspaper Kicker later hailed as "the best semifinals of all time" began at Frottmaning U-Bahn, the traditional disgorging point for fans heading to the Allianz.
The stroll up the esplanade to the Allianz is one of the great walks in football. The surrounding scenery is modest, scrubby mounds and autobahns, but the stadium is an architectural tour de force, especially when lit up at night. Like Dortmund's Westfalenstadion, the Allianz was designed with good sightlines and atmosphere in mind.
The noise inside was stoked by a DJ playing everything from AC/DC to The Killers and mercifully little of Eurovision level. The noise was really intensified by Muller, the 23-year-old who ran all night, creating one goal and scoring two. "Bayern's [Lionel] Messi is named Thomas Muller," screamed Bild the following morning. "He ousted the superstar. Messi who?"
Bayern benefit from close association with the world-renowned Hans-Wilhelm Muller-Wohlfahrt, aka "Healing Hans" who helps ensure the players are in such optimum athletic condition. Muller embodies their stamina. "I do not think that I will ever take on four players single-handedly but I know I have other qualities," he reflected after the game. "I am always good for running 13km in a match."
In this season's Champions League, Muller covers a prodigious 132 metres every 60 seconds (114,189m in 865 minutes). Led by Muller, Bayern pressed hard, broke quickly and efficiently. They punished Barcelona at corners and also via some generous calls from officials. Bayern fans chanted "finaaaale".
And they will be even stronger next season with Gotze's £37million purchase from Dortmund.
The journey to the Westfalenstadion was delayed for some supporters by a faulty U-Bahn. Waiting at a station for a train that never came, a Dortmund fan and I eventually leapt in a cab. He talked of his excitement, his respect for a well-run, listening club that charged him only £180 for his season-ticket (Europe and German Cup ties on top).
He voiced little distress at Gotze's imminent defection to Bayern. The academy graduate had served his club well, and was to do so even more later that evening. The fan in the black-and-yellow shirt understood the personal ambition of Gotze and the superior wages on offer from the runaway new champions.
Gotze received only a few derisive whistles. Photographers found one fan who had taped over the M Gotze on his shirt but there was also a "Danke Mario" placard. Dortmund fans responded civilly to a transfer that would have caused apoplexy in England.
Gotze could have hid, or at least been nervy. Instead, he created the first of Lewandowski's quartet within nine minutes and kept confusing Xabi Alonso by starting close by in the centre, then speeding wide.
There is talk in Germany of Gotze playing in the Messi false No9 role at Bayern under Pep Guardiola. Yet the attraction of recruiting Lewandowski, Bild's "Tor-Titan", is obvious also for his understanding with Gotze. Of Lewandowski's 20 successful passes against Real, almost half (nine) were directed towards Gotze. Of Gotze's 44, 10 were delivered to Lewandowski.
With Gotze supreme and Lewandowski clinical, Dortmund swept aside Real, leaving the Madrid paper AS calling for "Operation 3-0". Unlikely. The Germans are heading to the Wembley final.
Back in England on Friday, it was enlightening to hear the thoughts of Arsene Wenger, a student of German football. "I don't think - like many people do - that Germany will dominate European football for the next five or six years," he said. Arsenal's manager argued that German football was simply enjoying the halo effect from two fine teams and heavyweight powers in other leagues would respond. Dortmund's starting XI cost roughly the £40 million Bayern paid Athletic Bilbao for Martinez.
Bayern Munich and Borussia Dortmund have shaken Europe with their honest and intrepid football. The memory endures of Muller taking charge and chances, of Gotze giving everything for a team he was about to leave. These were real men at work.
Muller by kilometre
*Thomas Muller covers 132m every 60 seconds in this year's Champions League
*That's 114.2km so far