Team McCarthy were confident of winning the Miracle Mile, just not with Baby Bling.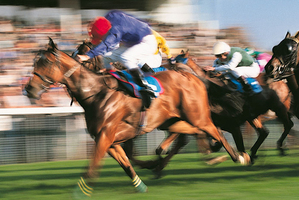 The all-conquering McCarthy stable proved too strong for the Kiwis in the Miracle Mile yesterday, but not with the horse everybody thought would win.
On a day of sensations at Menangle, outsider Baby Bling became only the third mare to win the great race when she downed Terror To Love and Pure Power.
The little mare capitalised on a perfect trip three back on the markers and burst clear at the 200m mark before holding out Terror To Love, who made good ground coming from last.
Baby Bling is trained by local horsewoman Belinda McCarthy, who dominated the race on the totes, too, but with her other two runners.
She and husband Luke, the leading New South Wales driver, expected Excel Stride to win the race with Mach Alert their next best chance.
"To be honest we thought third or fourth would be a good result for the little mare," said Luke McCarthy.
He felt the same way in the run as he had positioned Excel Stride perfectly in the one-one, while Mah Sish and Mach Alert set scorching early sectionals.
"I thought I was just going to win when I pulled out, simple as that," said Luke McCarthy.
"But my horse went no good whereas Baby Bling went the best she has ever gone.
"I suppose that's racing but it is funny. I'm thrilled we won but I am a bit stunned." Just as stunned was 23-year-old driver Matt Rue, who was given the drive on Baby Bling as repayment for his efforts working for the McCarthys the past two years.
"I was thrilled just to be in the race," said Rue.
"But I can't believe I just won the Miracle Mile.
"I remember as a kid watching Smooth Satin [2002] win the Miracle Mile and I was sitting at home, wearing Dad's driving colours, pretending I was driving him.
"And now it is me out there, it's amazing."
Baby Bling paced the mile in 1:50.5, an Australasian record for a mare but that wasn't the only sensation on the day.
Gaius Caesar was scratched by stewards two hours before the race after trainer Darren Binskin admitted giving the horse a tonic at 9.40am yesterday.
Binskin was seen administering the substance, known as Stomach Guard, by a security guard placed on all Miracle Mile entrants.
Horses in New South Wales are not allowed to have any substances administered to them after 8am on raceday and stewards scratched the $10 chance.
Binskin says the decision is ridiculous as the substance is a mineral tonic and he would have been allowed to start had he simply put it in Gaius Caesar's feed, rather than using a syringe.
"But I was running out of time to get him to the track and he wouldn't have eaten the food in time to get it in his system."
An inquiry into the administration was opened then adjourned.
Terror To Love was brave in second, Pure Power was slightly luckless in third, after trailing the leader, but the other Kiwi hope, Mah Sish, raced well below his best and dropped out to last.