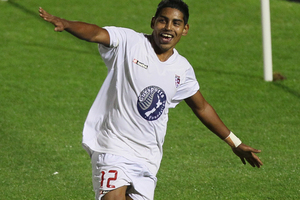 Auckland City remain a chance of winning a third straight O-League title after sneaking through to the semifinals alongside Waitakere United.
The defending champions needed only a point from a testing trip to Tahiti to face AS Dragon, and a point was all they managed.
Manel Exposito's first-half goal levelled the scores at one and Auckland's defence hung on for dear life to ensure the Spaniard's strike was enough to earn a place in the final four.
They will now face Fijian champions Ba, who finished unbeaten in group A, in a home-and-away semifinal tie, while Waitakere were rewarded for topping group B with a two-legged tie against Vanuatu side Amicale.
Auckland's hopes of winning through to a third consecutive Club World Cup were left hanging by a thread after being beaten by Waitakere in the Super City derby last weekend. But after Dragon were held at home by the lowly Mont Dore during the week, the champions' task was made a little easier.
They still needed to avoid defeat today against a side who handed them a 3-1 loss when in Auckland earlier this month. And with a large portion of the Tahitian national team - who last year won the Oceania Nations Cup at the All Whites' expense - featuring in their starting XI, Dragon presented a dangerous proposition.
They almost immediately illustrated that danger at Stade Pater in Pirae, opening the scoring after just five minutes to give Auckland an almighty scare. When Raimana Li Fung Kuee's freekick was deflected onto the post, Teaonui Tehau managed to nod past Tamati Williams to grab an early advantage.
Dragon continued to pile on the pressure but, just when the home side looked set to head into halftime with a morale-boosting lead, Exposito popped up to head in an equaliser five minutes before the break.
Auckland started the second spell the stronger side and Exposito was denied a double only by some smart work from Dragon defender Heimano Bourebare.
With such high stakes, it was no surprise the contest became heated and the yellow cards began to flow. And Dragon were left feeling even more aggrieved when a potential winner with 10 minutes left was scrubbed off courtesy of contact on Williams.
The home side were reduced to 10 men in stoppage time when Steevy Chong Hue was given his marching orders, allowing Auckland to hang on and progress to the semifinals.
Waitakere's route to the playoffs was a little more straightforward, having qualified before they clinched top spot with today's 3-2 victory over Mont Dore in New Caledonia.
- APNZ