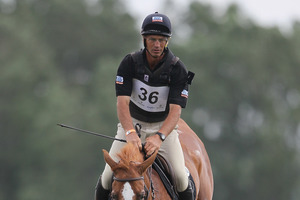 Andrew Nicholson took control at the Rolex Kentucky three-day event after two brilliant clear cross-country rounds put him into first and second.
The world's No1-ranked eventer has dressage scores of 38 penalty points aboard Quimbo and 40.8 on Calico Joe. Teammate Jonelle Richards and The Deputy, in their first Kentucky start, are seventh after an impressive clear cross-country, with just 2.4 time penalties, to sit on 55.1.
Nicholson had plenty of praise for Quimbo, rating the cross-country in their first four-star start together as probably his "most exciting ride ever".
"He is unbelievable," said an elated Nicholson. "For the first time at this level, he is just amazing."
Calico Joe also made the cross-country look easy, but Nicholson said he expected that from one of his more experienced mounts.
"It's been a great day for the sport. The weather conditions were ideal for riding cross-country, the grounds are superb and the horses just love to gallop on it."
Nicholson had promised he would be riding Quimbo like a "hardened four-star performer with a chance of winning", and did just that.
But there were still challenges aplenty for others on the Derek di Grazia-designed cross-country course. Of the 42 starters, seven were eliminated and five retired - including overnight leader William Fox-Pitt (Great Britain) aboard Chilli Morning.
The showjumping today will decide the winners, and Nicholson said he expected Quimbo to do his job, although it is a discipline that sometimes challenges Calico Joe.
Third behind Nicholson is Buck Davidson Jnr (USA) with Ballynoe Castle RM who has 45.2, with Fox-Pitt and Sea Cookie TSF on 46.2 in fourth, giving the Kiwi a rail in hand.
Nicholson is chasing not just victory at Kentucky but points in the HSBC FEI Classics, which he leads.
The Rolex Kentucky three-day Event is the Western Hemisphere's only four-star three-day event. It features the world's best horses and riders vying for their share of US$250,000 ($295,000) in prize money, as well as the chance of US$350,000 for winning Kentucky, Mitsubishi Motors Badminton and Land Rover Burghley four-star events in succession.