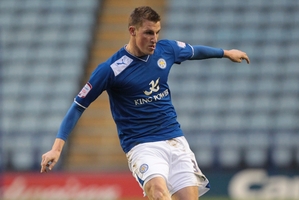 Chris Wood's big money transfer to Leicester City this year has resulted in an unexpected windfall of tens of thousands of dollars for several New Zealand football clubs.
Under Fifa's solidarity system, all the junior clubs that contributed to Wood's training and development are entitled to a slice of 5 per cent of the estimated 1 million pounds ($1.8 million) the Foxes paid West Bromwich Albion for the All Whites striker.
It could be just the start. Any further transfers involving Wood will also be liable for the contribution, while future deals involving Marco Rojas (though not the current one, as Rojas is technically a free agent and won't incur a transfer fee) will also be subject to the clause.
The 5 per cent figure is divided proportionally, depending on how much time a player spent at each club. The system kicks in from the age of 12 and continues until the 23rd birthday. Clubs are allocated 0.25 per cent for each year from 12 to 15 and 0.50 per cent for each season from the 16th birthday onwards.
The clause was put in the spotlight four years ago, when Zlatan Ibrahimovic transferred from Inter Milan to Barcelona for 66 million pounds ($102 million).
It eventually resulted in tiny Swedish club FBK Balkan, who play in the fifth tier of the Swedish League, receiving a payout of 144,000 pounds ($220,000) from the Catalan giants.
Because of the sums involved, Barcelona demanded evidence of Ibrahimovic's past, as other clubs were clamouring for a piece of the action. According to Goal.com, FBK produced a photo of the young Zlatan (bizarrely enough, playing in goal) as well as newspaper clippings and a video clip where Ibrahimovic talked about childhood playing days. At the time, the money represented their operating budget for five years.
In New Zealand, Wood started his career at Onehunga Sports (where his father and grandfather had played) before his family moved to Hamilton in his mid-teens. Wood then appeared for Cambridge, Hamilton Wanderers and Waikato FC before his departure to England in late 2008.
When contacted by the Herald on Sunday, Onehunga Sports were unaware of the Fifa clause and their entitlement, which could be between $10,000 and $15,000. A spokesman confirmed they would look into it and organise an application through New Zealand Football for the money, which would be a "lifeline". The sums involved are not insignificant for a Northern League club, considerably more than a naming rights sponsor would fork out.
Cambridge, Hamilton Wanderers and Waikato FC have been gathering evidence and preparing applications for their share, which may total up to $20,000. Any future application should be simpler, with local clubs now using the web-based goal net system to keep an accurate record of player registrations and playing history.
Meanwhile, Wood's chances of playing in the Premier League next season are slim after Leicester's 2-1 loss at home to Watford yesterday. Leicester, who were second earlier this year, have won just one of their last 12 league games.
If fifth-placed Crystal Palace and sixth-placed Bolton won overnight, the seventh-placed Foxes would have no chance of making the play-offs. Leicester's final regular season match is at Nottingham Forest next weekend.
Wood is the equal fourth-highest goal scorer in the Championship with 20 goals. Crystal Palace's Glenn Murray leads the golden boot race with 29.