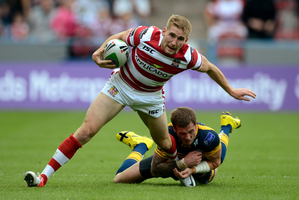 If Sam Tomkins comes to the Warriors, he is set to be the highest paid player at Mt Smart.
It is believed the Wigan fullback, who was the Super League's Man of Steel (player of the year) last season, will command a base salary of more than $550,000 a season.
This would put him ahead of other big earners, which includes Manu Vatuvei, Simon Mannering, Feleti Mateo and Dane Nielsen.
Any deal for Tomkins would also be one of the biggest in the club's history, comparable to the large contracts of the past for such players as Dennis Betts, Andy Platt, Greg Alexander and Steve Price.
It is understood the Warriors would have to buy out part of Tomkins' Wigan deal, as he is contracted to the Lancashire club until 2016. This could add up to $200,000 a year to the cost.
Wigan seem resigned to Tomkins going to the Southern Hemisphere.
"It might be next year or the year after but he will certainly go," Wigan chairman Ian Lenagan told English media last week. "There is a chance it could be at the end of this season. Sam is at the top of his game and he's won everything there is to win here. It will be the right thing to let Sam go to the NRL. We spent a lot of time with [the] Warriors recently and there is a special relationship."
Whether or not Tomkins comes to Auckland (the Roosters and St George are also said to be chasing him), it doesn't seem a promising situation for Kevin Locke.
While Tomkins has a background in the halves - which adds to his appeal - the Warriors would surely see Tomkins first and foremost as a fullback.
Where does that leave Locke? When he arrived, Locke was one of the most exciting talents in the NRL and some of his form in 2010 and 2011 was electrifying.
At times, he looked like a new Billy Slater or Brett Stewart; a courageous defender, a dangerous attacker on his feet with a passing game to set up his outsides. He has played 74 games for the Warriors, scoring 24 tries, and is a back-up goalkicker to Shaun Johnson, along with Ben Henry.
But he has not come on as much as expected. Hampered by injury and playing behind a team that have often been going backwards, it has been hard to shine.
And he has looked uncertain under the high ball, seems less capable of latching on to offloads as he did in years past and has yet to reach any great heights this season. He has also had problems off the field, with three driving offences since 2010, including two counts of driving while disqualified.
The stated interest in Tomkins could imply that the Warriors' brain trust don't see Locke as the player to build the backline around, like Slater the Storm, Ben Barba at the Bulldogs, Greg Inglis at the Rabbitohs or Jarryd Hayne at the Eels.