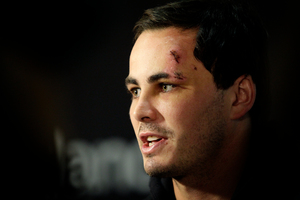 You can't tell me things are as bad as everyone is making out with all these rugby players in trouble right now. Yes, things have changed a lot in rugby and I'd say 90 per cent of that change is money.
In my day, 22-year-olds and 24-year-olds didn't have the ability to afford overseas travel and booze-ups, like Zac Guildford did in Rarotonga. Most of them were too busy studying at university (or not studying ...) or holding down a job or both. They just didn't have the financial ability to do very much. There was a bit of beer drunk but it was usually sponsor's product.
Casinos didn't exist in New Zealand then. If you went to a casino on tour in Europe, you had about $20 a day or whatever it was; most were pretty cautious. I can't say, hand on heart, that everyone was an angel and that there was no trouble and that no one ended up in court. But it didn't happen often and, when it did, it was generally greeted with a shrug and the expression: "Just another bloody rugby player ...".
But there is one thing that hasn't changed - the character of the individual and his ability to handle himself.
That's never changed and it never will. All right, there is more money and more temptation but it still comes down to the quality of the individual.
I've heard a lot about the checks and balances rugby offers to educate players about the perils of drink, drugs, gambling and avoiding a scrap and all that.
You hear it is stressful playing professional rugby. Come on - they are living the dream, even in my day. Being paid for doing something you are naturally good at ... don't we all dream of that?
They are young, responsible adults so why do they need all these checks and balances? I think that is mostly a PC measure from the likes of the NZRU to feel good about what they are trying to achieve.
It comes back to the quality of the individual.
Look at an apprentice mechanic or builder or med student. They all get life lessons at the hands of their bosses. They grow their life skills and their values through their experiences and the experience of those bosses. Not all mechanics will be great guys, of course - it depends on the individual and how he uses what he has been taught.
It's the same with rugby players. They have parents; peer groups; those checks and balances - they already know right from wrong.
Another thing that hasn't changed is what I call the dodgy fruit scenario. If you have a rotten apple, it can send the whole box off. You have to cull the bad ones.
Sir John Kirwan is obviously doing that at the Blues; Mark Hammett had to clean out the Hurricanes a bit. Now the Julian Savea thing has happened but I'd say that is an individual issue and is nothing to do with the culture of the team. Same with Guildford at the Crusaders.
It's only rumour but I've heard there used to be, in recent times at one of the big teams of New Zealand rugby, a group of guys who would go out in the wee, small hours and give hidings to individuals. If that's true, that is something that's changed. People like that need to be shown the door.
Wayne Smith and Robbie Deans, when they had the Crusaders, always used to repeat the mantra that better people make better teams. That sentiment is still heard today, from the All Blacks down.
That kind of problem belongs to the individual. Maybe rugby can do a better job at recognising the bad apples and dealing with them but the fact remains - they all know right from wrong.