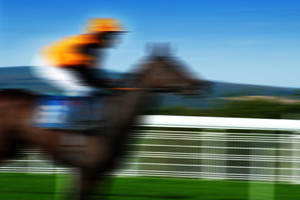 The men behind New Zealand's most exciting pacer say they have no regrets about bypassing a shot at Miracle Mile glory.
Because they believe Christen Me will pay back their patience in the long run.
The sensational pacer would have been among the favourites for tomorrow's A$750,000 sprint in Sydney but trainer Cran Dalgety opted to miss the race in favour of easier pickings at home.
And easy they proved as Christen Me sat parked and effortlessly downed group one stars Gold Ace and Bettor Cover Lover in the $100,000 Taylor Mile at Alexandra Park last night.
Both Dalgety and co-owner Charlie Roberts said they were happy to miss the Mile. "Cran is doing what is right for the horse and I applaud that," said Roberts.
And Christen Me gets another shot at group one consolation in next Friday's Messenger Pace, as well as being a red hot favourite for the Jewels on June 1.
While he played the bully to win his group one last night, trotter Stent made the most of an economical trip to win the other last night, the $100,000 Anzac Cup. Stent led then trailed and flashed through late on the markers to down Flying Isa, who was massive on second after surging into the race at the 600m.
That saw him power past hot favourite Vulcan, who was slightly disappointing by his lofty standards of last month but should improve for the Rowe Cup next Friday.
Earlier in the night, the x-factor version of Royal Aspirations turned up to win the $80,000 Sires' Stakes Championship by over seven lengths over a hot three-year-old trot field.
The win mirrored what he did at last season's Harness Jewels, when he destroyed the national juvenile mile record and when Royal Aspirations is in that form it is hard to believe he ever gets beaten.
Trainer Fred Fletcher admits he is as perplexed by that as the punters who let the colt get out to $10 in markets last night.
"He is a funny horse and I still haven't worked him out," said Fletcher. "He is a lovely natured horse at home but wants to go as fast as he can on racenight. So then we worked really hard to curb that and he went too much the other way and got too docile.
"We ended up putting the blinkers on him tonight and that seemed to work."
That was typical Fletcher understatement as Royal Aspirations blazed to the lead and had some serious young trotters, most notably hot favourite Habibti, off the bit a fair way from home. Habibti, who had to race parked, lost her chance by galloping on the home bend but she wasn't going to beat the winner.
In the night's other feature, Libertybelle Midfrew gave trainer Nigel McGrath a rich Alexandra Park double taking out the $160,000 Sales Series Pace.
Making up for a series of luckless runs, she secured the trail and blasted past favourites Te Amo Bromac and Venus Serena in the straight.
The race is the richest fillies' pacing race in the country and McGrath also trained Classiesistar to win the richest three-year-old pacing race when he took his division of the Sales Series, also at Alexandra Park on December 31.