Silent Achiever gives New Zealand a back-up chance in the Queen Elizabeth Stakes in Sydney today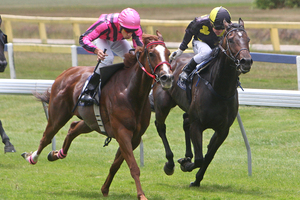 Has the TAB missed out on an early look at a bet option around New Zealand Horse Of The Year?
Three weeks back the $1.20 favourite to take that title was Ocean Park.
But if It's A Dundeel wins today's A$500,000 ($604,000) Queen Elizabeth Stakes in Sydney he is entitled to equal support.
Given the subjective nature of such awards, this column is not a huge fan of the concept, but an Ocean Park versus It's A Dundeel would certainly be fascinating.
If It's A Dundeel wins today, the margin is very unlikely to be similar to his runaway Derby victory in Sydney last start due to the fine opposition and the fact he faces the older horses this time.
But if he takes his Derby form to Randwick this afternoon it's difficult to see how they can beat him.
Silent Achiever gives New Zealand a top class back-up chance.
This is a race not to be missed.
It's a long time since we've seen a major race with so little between the top half dozen fancies than today's $70,000 Windsor Park Breeders Stakes at Te Rapa.
Luck will play a part - the 3-year-old with the best run in the race is almost certainly going to be successful.
So Wotif (No1, R5) has top class potential and the way he wins his races is so stylish he is entitled to favouritism. His recent Ellerslie efforts stand him out here, but Waterford (9), Oasis Rose (10) and Silverdale (4) are all capable of threatening.
Oasis Rose is fresh, but she has shown she requires little to get her close to her best form.
The races are attractive through the programme which starts with a clash between stylish debut winner Cosmic Cube (No1, R1) and well bred trials performer Wolfwhistle (No6). Cosmic Cube was devastating winning at Ellerslie, coming from near last. He goes up to 59kg for that victory, but looks total class. Wolfwhistle is a classic rising 3-year-old type and is primed for his debut from Jason Bridgman's stable.
Race 6 has a couple of upset chances in the line-up. Art Beat (No8) and High Kin (No10) are talented types when there is rain around, Art Beat being particularly good in the worst of winter tracks. Both should be at attractive odds.
It took Ambitious Champion (No5, R7) a handful of starts to break his maiden, sometimes a sign of a lack of top class ability, but this bloke always looked good finishing seconds. He looked even better winning at Avondale last start, clearing right away late. He should go on with it now.
The high class mares in the $100,000 Travis Stakes make for a race equally as interesting as the Breeders Stakes. The clash between O'Fille (No2, R8) and Viadana (No1) alone makes this event a beaut. Throw in Postmans Daughter, who is racing herself back to form, and you have a very competitive contest. O'Fille gets our vote narrowly simply for having proven herself over this 2000m - she probably should have won this race 12 months ago. Her latest form is the best of her career and don't concern yourself over the fact she has yet to win on a rain-affected track. That won't stop her here. The best roughie here is the underrated Carlotta (10).
On latest form Sacred Knight (No3, R9) is entitled to start favourite. His last start win when stepping up in distance was excellent. Tilda (No8) has left some of her career-best runs on the Te Rapa track and Dark Bishop (No5) is much better than his last-start failure would suggest. •Shaune Ritchie knows Zurella is capable of winning a Group One race. He also knows it won't be this weekend but he's using the Queen Elizabeth Stakes as a guide to her spring prospects.
The quirky mare ran a solid fifth in the Coolmore Classic last month and Ritchie took her home to New Zealand where she started favourite in the Easter Handicap only to put in a poor performance for which the trainer blamed himself.
She is back in Sydney where she takes on Australasia's new superstar It's A Dundeel in the 2000m Group One at Randwick today.
"She's long odds and deserves to be. I'm aware of that but she has shown glimpses of brilliance throughout her career and the owners want to run her in Melbourne again in the spring so we'd like to see where she sits in this company."
- additional reporting AAP