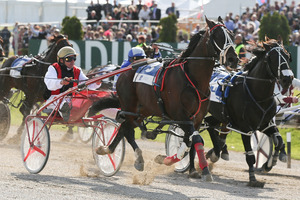 The new gaping hole in New Zealand's pacing pride doesn't look like getting filled in tomorrow's A$750,000 ($906,000) Miracle Mile.
The iconic race may be down on class this season because of a forced time change from November to April, but even then the two Kiwi-trained chances have been wild drifters in the market this week.
Both Terror To Love and Mah Sish raced lengths below their best in the final lead-up last Saturday and that, coupled with wide draws, has left them needing to show enormous improvement to threaten.
They languish behind the Belinda McCarthy-trained pair of Excel Stride and Mach Alert, who completely dominate the market after huge prelude victories.
On overall form the McCarthy pair are probably inferior to Terror To Love but there is overall form and then there is Menangle form.
Because the giant track outside Sydney is changing the face of Australasian harness racing and it seems New Zealand horses are struggling to catch up.
Menangle holds mainly mile races which are run in the same style as the famous Meadowlands track in New Jersey - running as fast as they can, for as long as they can.
Before Menangle opened four years ago a 1:55 mile was considered quick in this part of the world, now maidens regularly pace that there and Smoken Up set an as yet untouched Australasian record of 1:48.5 there.
While New Zealand pacers are getting tougher as regular premier racing means consistently faster times, our racing is still softer than the aerobic war of Menangle.
In fact since Monkey King won the first Miracle Mile at Menangle, Kiwi pacers have been largely smashed at the track.
Mah Sish was good enough to finish second in this season's Inter Final but that was over the more suitable 3009m, while Smolda is the other recent Kiwi group one winner there but that was in the 2400m NSW Derby.
Even when Christen Me won the Chariots Of Fire over the mile last month he was the only bright spot on a day when the Kiwis got routinely thrashed over the shorter but more punishing distance.
Most trainers now realise it takes two or three runs for our best pacers to adapt to the relentless racing style and at the most elite level being just that smidgen out of their comfort zones is proving costly.
Terror To Love, who last Saturday was gapped by horses he would embarrass at Addington, is still good enough to win tomorrow but his stable have all but abandoned aggressive tactics in favour of sitting in and hoping for, well, a miracle.
Trainer Tim Butt is confused by how Mah Sish, who was so consistent over the summer, has produced two shockers in the last fortnight so is little more than hopeful tomorrow.
New Zealand does have a third rep in Kiwi-owned pacer Pure Power, who has sneaked into the field for former Auckland trainer Nicola Molander, but he is 33-1.
If they race up to their best, the McCarthy pair should dominate, with the fact Luke McCarthy has chosen to drive Excel Stride the most important factor punters should take into account.
If he gets out to $2.50, jump on.


Chasing a miracle
What: A$750,000 Miracle Mile.
Where: Menangle, west of Sydney.
When: 6.40pm NZ time tomorrow.
Who: Kiwi pacers Terror To Love, Mah Sish and Pure Power take on the Aussies.