The team sit on the bottom of the NRL table but Michael Brown asks whether they are as bad as their position suggests, the belief is that they are actually very good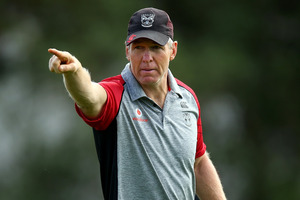 On the only measure that matters, the Warriors are the worst team in the NRL. They sit on the bottom of the ladder, with only one win in seven games, and there's a widespread belief their season is effectively over with barely one-quarter gone.
But there's also a widespread belief they are by no means the worst team in the NRL.
In fact, Australian league commentator Andrew Voss said, "The Warriors are the best and most talented last-placed side I have ever seen in the NRL".
In recent weeks they have taken three of the top four teams to the wire - Roosters (14-16), Souths (22-24) and Melbourne (28-18) - come from 12 down to beat North Queensland (20-18) and lost it at the death to the Raiders in Canberra (20-16).
But just as winning can be a habit and good teams find ways to win games, so too can losing.
The Warriors have been on the cusp of a handful of wins this season, but they lost all but one of them and it has contributed to their worst start to a season ever.
"They played a team last night in Melbourne who just won their 15th-straight match," Voss said. "Over that same period, the Warriors have won only one game. But for an ounce of luck the Warriors would have beaten the Storm. That shows how close they were, but the gulf is huge. Losing becomes a habit and they didn't get the job done against Canberra because they couldn't get out of their own half. Teams that get on a roll and win matches can win ugly.
"The one thing I think is missing is one, absolute class player. With a star player, they would be five and two, I reckon. They would be really well served with a class, ball-playing fullback who can take a huge amount of pressure off the halves. They come into the line and set up plays. Either Kevin Locke learns that and does it more, because he's capable, or the Warriors find one. It would make an enormous difference."
The Warriors are chasing England fullback Sam Tomkins, who could also play five-eighths, and are well advanced in their planning for 2014. But fans want success now, which makes the next month crucial.
They host the Titans and Bulldogs (in Wellington) before a trip to Penrith and a home game against Newcastle. Win at least two and they could gather some momentum but continue the losing trend and the season could go horribly wrong. The players seem to be resilient at the moment but often can't sustain prolonged failures. It's what happened last year when they fell away badly and lost their last eight games.
"What I am learning about this group of men is they are strong," coach Matt Elliott said after the Melbourne defeat. "It would be easy [for them] to be frustrated, disappointed, shattered.
"We are all aware of where we are at - one and six - but for a group to be in that place and still be in a really good frame of mind and strong about what they want to achieve this season, it's refreshing for me.
"I'm working with a really great group of people."
The club showed little patience with Brian McClennan, and the former Kiwis coach was sacked before the end of his first season, but they appear to have faith in Elliott.
In many respects they have to because any more change would set them back further and Elliott is their fourth coach in 18 months. Departing Breakers basketball coach Andrej Lemanis spoke this week about building things slowly and, if you get that right, success will come.
"If you try to build quickly, you are more likely to fall quickly," he said.
Former Queensland and Australia five-eighth Ben Ikin thinks the Warriors's season is gone already but he's not surprised about that given the number of changes at the club.
"Every single coach has a different philosophy about what it takes to win footy games and chopping and changing takes its toll," Ikin said.
"People have to be patient with the Warriors and I don't expect great things from them this year.
"Matt is probably tinkering with his roster for 2014 now. He will be figuring out what players to keep and which ones to let go, which ones have bought into his ideas and which ones haven't.
"I think the Warriors will have a fairly clunky season. They need to find a balance between playing exciting football but also getting into the grind.
"It's hard to argue with their position on the table but there's also a lot to like about their performances. The important thing is turning that into competition points because that's what the good teams do."
It hasn't helped that the Warriors have already been hit hard by injuries, continuing a trend that afflicted them in 2012. They have been without Nathan Friend, Manu Vatuvei, Simon Mannering, Sam Rapira, Jacob Lillyman, Ben Henry, Russell Packer, Jerome Ropati, Steve Rapira and Dane Nielsen and it has tested depth. Some of their replacements often come in with little experience.
"A good NRL player used to go through about three or four years of graft and got knocked around a bit and might have become an NRL player at 26," former Kiwis fullback Richie Barnett said. "Now kids are playing NRL at 20. When you get knocked around a bit, it toughens you up and that's an important part of the game."
It's easy to forget most of the side who played against Melbourne have grand final experience.
It's memories of the Warriors' run in 2011 which makes their present predicament hard to swallow.
- APNZ