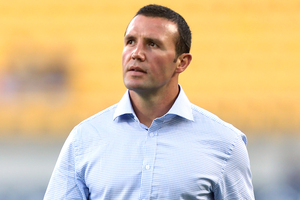 Making sure heads are right is going to be crucial for the Crusaders as they move into the second half of the regular Super season tomorrow against the Melbourne Rebels at AMI Stadium.
None of them have forgotten last year's shock loss in Melbourne when they did not bring their A game.
And after losses this season to the Hurricanes, Sharks, and Force in matches they should have won, players had to individually make sure they had the right mental attitude in every match they played, said attack coach Aaron Mauger.
"Players have to prepare the same for the Rebels as they would if they were playing a top placed team - if they were playing the Brumbies next week," he said.
"It shouldn't look any different from what it looked like last week to what it will look like next week. That comes down to respect, and I think this competition has shown that anyone can beat anybody on their day, and if we're not right and we turn up with an arrogant attitude we'll get toppled."
As he took stock at the halfway stage this week, Mauger sees plenty of pluses for the Crusaders in the next stage of the season, including the return of Dan Carter, on the bench tomorrow.
There were areas where they could be better, but they were doing some things really well, he said.
The adventurous running rugby promised this year has not always eventuated, and that was because they just hadn't been accurate enough, he said.
"We're always assessing where we're at and make sure we've got the balance right. I think balance is the key word there, just making sure we get the balance right with our decision-making on the field, and also training the things that we need to be effective on during the game."
They showed against the Highlanders they could play a balanced approach, he said. In certain games this year they probably hadn't run the ball as much, and it served them well in those games. In some, like against the Bulls and the Kings, they ran it, and it came off really well.
While the forwards were playing well, the backs had probably been a little guilty of forcing things a bit too much, and that was one criticism he had of the backs as a unit.
"Once again it comes down to making good decisions and executing under pressure," he said.
"The individual responsibility is there for guys to be better under pressure and make better decisions, and we've also got to make sure we train that as well, so there's a bit of coach responsibility to make sure we're giving the guys what they need and can execute it in games under pressure."
The second half of the season had a different sort of dynamic coming into winter, with the ball greasier, night games, and colder weather, and they had to be mindful of the conditions, said Mauger.
The Crusaders have five of their final eight matches at home and that would make a massive difference, he said. "It's really hard travelling - it's great for the team, you get close, but it's just a different challenge. You don't always get that down time you would at home and you're not around the people in familiar surroundings.
"So I think the guys definitely enjoyed being home last week, being able to rock up to the game, and leave after the match together and go home and sleep in their own beds."
Having Carter back and Kieran Read expected back soon, would also make a huge difference, he said.
"But the guys who have played there have played very well. Tyler Bleyendaal has been outstanding, the growth I've seen in him has been huge, and I thought he was outstanding against the Highlanders. Luke Whitelock as well has done a great job in the No 8 jersey.
"So it won't be easy for those boys to get their positions back, but obviously we understand they have so much to give to this team and we will definitely benefit from their return."
The Rebels have won only two from eight this year.