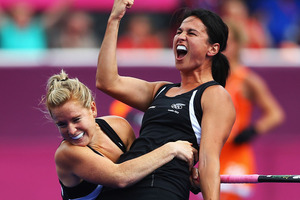 It may be their first experience at a brand new tournament, but New Zealand women's hockey coach Mark Hager opted for the tried and true in his team selection today.
The Black Sticks will get their first taste of the new World League when they travel to Netherlands for an eight-team tournament in June, with spots on the line for both the final round of that competition and next year's World Cup.
With those sorts of stakes, it is perhaps of little surprise that Hager has gone largely for players he knows and trusts in his 18-strong squad. Eight members of the team have more than 100 international caps, while no one has played fewer than 10 matches.
That's not to suggest the side is light on youthful exuberance, however. With as many teenagers (two) as players who have had their 30th birthday, the average age of the group heading to Rotterdam is just 23.
That blend of battle-hardened players still in their early 20s is desirable for any coach, and Hager was confident the diversity within the group was a major strength.
"We have a nice mix of youth and experience in this side,'' he said. ``The younger players complement those with more experience and they all work together really well.''
If they continue to do so, the Black Sticks will be confident of qualifying for a couple of major tournaments. With the inaugural World League split into stages and the heavyweights entering only at round three, play in Rotterdam - with another competition taking place in London - will be a virtual semifinal scenario.
Joining New Zealand in the Netherlands will be the hosts, as well as fellow hockey heavyweights Germany. With the top four qualifying for the fourth round and the first three making the World Cup, the Black Sticks will be aiming to edge Korea, Japan, India, Belgium and Chile for the latter goal.
"Obviously we will be looking for a strong finish at the tournament to make sure we qualify for the 2014 World Cup and World League round four,'' Hager said. ``We certainly have the talent in this team to come away with a positive result.''
Hager's team boasts four under-21 representatives, including Sian Fremaux who was recently top scorer at the first four nations tournament in Whangarei.
Fremaux, 20, said she was excited to be named in the team and was looking forward to trying to cement her spot.
"I'm so excited to be given the opportunity to take part in the competition,'' she said.
"Being in the environment is a great learning experience and every day I learn something new, especially from the older girls who are a wealth of knowledge.''
The Black Sticks depart New Zealand on June 1 and will play three tests against England before heading to Netherlands.
***
Black Sticks squad: Bridget Blackwood, Sam Charlton, Gemma Flynn, Krystal Forgesson, Sian Fremaux, Katie Glynn, Charlotte Harrison, Pippa Hayward, Rose Keddell, Julia King, Stacey Michelsen, Emily Naylor, Anita Punt, Cassandra Reid, Bianca Russell, Sally Rutherford, Kayla Sharland, Petrea Webster.
- APNZ