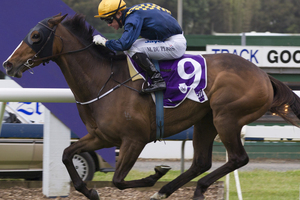 O'Fille has not won on a rain-affected track, but trainer Wayne Marshment says don't take that into account in tomorrow's $100,000 Travis Stakes at Te Rapa.
All six of the handy mare's wins have been on good or dead tracks, but Marshment says that's circumstantial.
"She's such a good racehorse that whatever the track conditions you just have to show up and she'll give you 100 per cent.
"She finished a great second at Wanganui one day on a filthy, heavy (11) track that was bottomless, so it doesn't greatly worry her."
Neither does Te Rapa, which can prove tricky for some horses.
Marshment believes O'Fille's good record at Te Rapa is because she is trained at Wanganui.
"Wanganui is quite similar to Te Rapa in that it's sandy. Horses that show good form at Wanganui almost always continue to do so.
"Te Rapa seems to be the same."
O'Fille finished a close third to Dolmabache and Postmans Daughter in this race a year ago and was promoted to second. With a decent clear run she might well have won.
Her form this campaign has been her best with back-to-back victories lately in the Manawatu Breeders and the Cuddle Stakes. Both were superb performances.
"She's a definite starter because it's her last run of the season," says Marshment.
Matamata's Lance Noble feels the same way about Manco Easter winner Viadana.
"At the end of a campaign you always wonder if you've gone one race too far, but this race is not going to hurt her and win, lose or draw she's going to the spelling paddock, so no harm will be done."
Vidana finishes her metric miles off strongly, but has yet to tackle tomorrow's 2000m. Noble is hopeful, almost confident, rather than certain the distance will not be an issue.
"She's got a nice draw, which should allow her to see the race out after an economical run."
Helping with Noble's confidence is the fact the race is run at weight-for-age. "She's a lot better off in this than in the Easter and she won that."
The better the footing the better it will suit Noble.
"If it gets back to a slow rating I'd be happy."
Postmans Daughter lost form for a spell, but her recent efforts have been right back to her best.
She was beaten by the shortest possible margin by Viadana in the Easter and is clearly racing herself back into form.
Cambridge mare Jeu de Cartes is always a prospect in these types of races. She also has a sound record at Te Rapa on all types of footing and is well suited at weight-for-age.
The weather might have the final say around the result of the $70,000 Windsor Park Breeders Stakes.
In a fabulous field of 3-year-olds for this time of year, So Wotif looks a great chance, but with rain-affected footing often negating class, his chance might depend on reasonable ground.
Waterford, Silverdale, fresh runner Oasis Rose and a couple of others make up a powerful bunch of challengers.
Oasis Rose is classy and is the type that can run a big race while fresh.