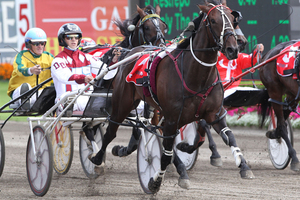 A lightning dash from Canterbury to Auckland on Wednesday convinced trainer Cran Dalgety his superstar pacer Christen Me can carry his sensational form into tonight's $100,000 Taylor Mile at Alexandra Park.
The 4-year-old has been the pacing find of the season on both sides of the Tasman and is being touted as the next big thing in harness racing.
However, he faces a triple threat of class opponents, having never raced right-handed and a wide draw in tonight's select sprint field.
Dalgety feels more comfortable about that track inexperience after flying from his Canterbury base to partner Christen Me in a private Alexandra Park workout on Wednesday.
"He handled the track perfectly so that won't be an excuse this week," said Dalgety.
"There was no reason to think he would have a problem but I wanted to make sure, which is why I took him in there.
"So the only thing we will change is his boring pole from one side to the other, which you would, naturally, do when going the other way."
Christen Me has been breathtaking this season, pacing 1:50.4 to win the Chariots Of Fire in Sydney and then setting track record sectionals at Addington since.
Most importantly, he has shown the ability to sit parked and win at the highest level, a rarity in elite harness racing.
That could be crucial tonight as he has drawn six with some flyers inside him.
"I don't see him getting handed the front but if we can keep our noses clean early, he can come and sit parked and still win because he relaxes well out there."
Open-class opponents like Bettor Cover Lover and Gold Ace will test Christen Me but he is something special and it would surprise to see him beaten.
Christen Me could have been in Sydney this week for the Miracle Mile and tonight's other group one favourite Vulcan was also expected to be overseas.
However, after missing an invite to race in Sweden he should gain huge compensation in the form of tonight's A$100,000 Anzac Cup.
Vulcan has completely dominated his group one opponents in the past six weeks and trainer Tim Butt says his previous Alexandra Park form of six starts for no placings isn't a concern. "I know it doesn't read well but he actually handled the track well last time he was there.
"But he was only a 4-year-old and wasn't good enough to win in the best company.
"He is a completely different horse now and is simply flying.
"His workout last week was as good as he has ever gone and I can't see him beaten, to be honest," said Butt.
On a night of exceptional racing, Habibi holds a manners' advantage over Australian star Blitzthemcalder in the $80,000 Sires' Stakes Trot.
Venus Serena was so strong winning last Friday's juvenile feature it is impossible to go past her in the $160,000 Sales Series Fillies' Pace, although Te Amo Bromac will provide genuine opposition.
Premier night
Four huge races highlight tonight's premier meeting at Alexandra Park.
Christen Me is a hot favourite for the Taylor Mile.
Vulcan is looking for his sixth group one win in as many starts in the Anzac Cup.
Summing up the features
ANZAC TROT, R7, 8.36pm: Vulcan (4) only has to race up to his awesome form of the past six weeks to win again.
Hasn't always looked at home at Alex Park but has been stunning lately and working well so it's his race to lose. Being over 2200m means the speedsters drawn well, Cyclone U Bolt (1) and Stent (3), get chances to settle handy and are obvious dangers.
Stig (9) is the grand old man of trotting and, back on his favourite track, could win but after recent issues and from a bad draw, maybe best to wait till next week's Rowe Cup.
Trifecta chances to Sovereignty (8), Realmein (12). Springbank Sam (10) and The Fiery Ginga (13) but hard to see any of them winning.
Top four: Vulcan, Cyclone U Bolt, Stent, Stig.
Suggested bet: Vulcan to win.
TAYLOR MILE, R8, 9.06pm: Christen Me (6) has been the find of the pacing season and should win but this is no walk in the park.
He has some serious speedsters inside him who might be keen to make him work rather than hand up and few group one sprint winners at Alex Park come from sitting parked.
If he is to get beat then Jason Rulz (1), Bettor Cover Lover (2) and Gold Ace (3) are the main threats.
Jason Rulz has good gate speed and while he is just below the best he has beaten Christen Me with the drop on him before.
Bettor Cover Lover is the Queen of Alexandra Park and was third in the Auckland Cup so is a great each-way hope, especially if they go hard. And Gold Ace could lay claim to being New Zealand's best miler but has been nagged by constant hoof problems. If the real Gold Ace turns up tonight he will be hard to catch.
Jarcullembra (7) looks a the best place bolter.
Top four: Christen Me (7), Bettor Cover Lover (2), Jason Rulz (1), Gold Ace (4).
Suggested bet: Christen Me too short to back outright so quinella with Gold Ace and Bettor Cover Lover.