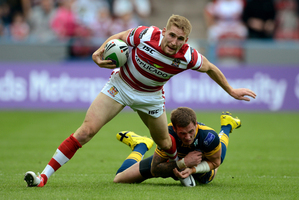 1: Locked in
There's little worse for a player than their club chase someone who plays in their position. Fullback Kevin Locke is facing that now as the Warriors target England fullback Sam Tomkins, but Matt Elliott thinks they can accommodate both. The Warriors coach tried to reassure Locke he remained "an essential part of us being a competition threat". Elliott said it could mean a position change for either Locke, who started on the wing, or any new player. Tomkins was at five-eighths at Wigan before switching to fullback in 2010.
2: Good competition
The Rugby League World Cup can be dominated by only one or two teams but that looks less likely after last weekend's internationals. The Kiwis gave Australia a scare in the Anzac test before coming unstuck in an 11-minute burst and Tonga, looming as a danger, disposed of what was thought to be a strong Samoa side 36-4. Tonga should waltz through pool play before a possible quarter-final against the second-placed team from Group B containing New Zealand, PNG, France and Samoa.
3: Parenthood
The Warriors are in contract talks with Feleti Mateo, the biggest obstacle not money but impending fatherhood. The club want to retain the 28-year-old past this season and Mateo is happy here, but is finding it hard to resist returning to Australia to be near family.
4: Anzac spirit
Plans for the Kiwis and Kangaroos to play the 2015 Anzac test in Gallipoli, to mark 100 years since the New Zealand and Australian failed invasion there, have reportedly been blocked by Turkish authorities but there are now hopes an Anzac team will play Great Britain instead to mark the occasion. Sydney's Daily Telegraph reported that former NZRL boss Jim Doyle, who is the NRL's new chief operating officer, was working on the concept. "You could have Benji Marshall and Johnathan Thurston in the same team. That would be something special."
5: Ball thief
Playground matches often end prematurely when someone nicks off with the ball and that's what happened in last weekend's match between Tonga and Samoa. Tonga romped away with the match but it could have been more because they didn't get a chance to take the last conversion. Spectators swarmed the field with two minutes to go, as Samsoni Langi was lining up a conversion, and one ran off with the ball. Must have been a Samoan fan who had seen enough already.
6: Game of the week
The previewer at nrl.com came over all Days of Our Lives when he wrote, "like the waves at nearby Manly Beach, the big games just keep coming in 2013". The biggest this weekend is tonight's match between the Sea Eagles and Bunnies. Melbourne might have set the early pace, with six from six, but Manly and Souths were right behind and this match is a chance for one side to prove their title credentials. Manly aren't small but backrower Anthony Watmough suggested the Souths pack was the biggest he had ever seen and joked there should be a weight salary cap.