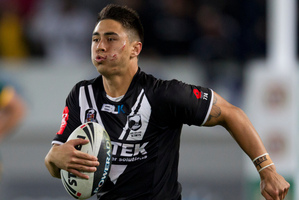 I can see a time in the not too distant future when the worm turns and the Kiwis enjoy a period of sustained success against Australia. Last weekend's Anzac test confirmed to me that the future of rugby league in New Zealand is bright.
The Australians were stacked with incredible talent and experience but they are an ageing side with most in their late twenties. In contrast, New Zealand fielded a relatively young and inexperienced side and three of their best - Jesse Bromwich, Kieran Foran and Shaun Johnson - are in their early 20s.
There's probably going to be a changing of the guard at some point and we will finally achieve what Australia have been doing for so long. The challenge for the Kiwis, with the World Cup looming, is to make sure it happens this year.
I might be a little biased as a Kiwis selector but I'm optimistic of our chances.
With the depth and talent coming through and consistency of selection, we're starting to build a side that can achieve something quite special, and that means retaining the World Cup.
What really impressed me last weekend was the fact these young kids weren't fazed by the fact that so many senior players were missing, and even losing captain Simon Mannering on the eve of the test didn't seem to affect them. Losing Mannering, Jeremy Smith, Benji Marshall, Sonny Bill Williams, Greg Eastwood and Thomas Leuluai robbed the team of considerable talent and experience but the young guys not only accepted the challenge but revelled in it.
The situation required them to step up and they did.
The biggest thing the guys who played last weekend need to do is learn from what happened. They need to review their own performances in every respect, look for ways they can improve and put those learnings in their memory banks for the end of the year.
Australia will step up again and, as they showed last weekend, can be ruthless. But they'll also be wary of the Kiwis, especially as they know New Zealand improve through a campaign.
As well as the young team did, one thing we picked up as selectors was the fact we need leaders on the park all the time. When things went against the Kiwis - the refereeing calls and video decisions that went Australia's way - there weren't enough guys on the park who could make sure everyone stayed focused.
They needed to start the second half the way they finished the first, and the fact they didn't proved costly. They had to be more disciplined, and smarter.
There is great depth being built, which will put a lot of pressure on a number of players towards the end of the year, but we're still thin at hooker.
Issac Luke is in terrific form but there isn't a lot behind him and Australia did their homework on Luke to nullify his effectiveness. They were excellent in the wrestle and slowed everything down.