A knock-out excuse, an interesting take on dignity ... and a fan takes the wrong way home.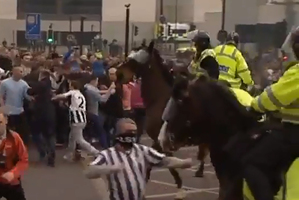 The horse started it
A Newcastle United fan who earned infamy after being caught on camera punching a police horse following the team's defeat to rivals Sunderland has blamed the horse for the fracas. Barry Rogerson, who claims he's an animal lover, told the Daily Mail he hit out in panic after the horse was spooked by a firecracker and charged at him.
"At first I tried to get him away from me with my left hand and then I punched him with my right," he said. "It was sheer panic. I believe it made contact with the horse. It was an instant reaction. The horse just came towards me and I reacted stupidly. I apologise for it - I did not go out to attack a horse. I love animals. I have got three dogs and a fish pond."
Rogerson pictured in the paper with one of his pet dogs, also claimed he pulled a scarf over his face only because a filling had fallen out of a front tooth.
What's in a name?
Until last week, the Boston Bombers were the city's only semi-pro women's basketball team.
They also, like any sports club, had an aggrandising logo of cartoony power, a lit-fuse Wile E. Coyote bomb with basketball grooves, reported gawker.com.
But after last week's marathon bombing, the Boston Bombers have decided to rename their franchise. "Our fans [were] not happy with the name," said a club representative. They've already taken measures to erase their former franchise's footprint from the web, shutting down the team's Twitter account and deactivating its Facebook page.
Meanwhile, the 41st annual Boston Shootout will go on as planned.
Dignity indeed
Carlos Rios, coach of bottom-placed Spanish second division side Xerez, was asked before his side's game against table leaders Elche how they would handle the pressure. "We will never lose our dignity," Rios said. One day later, during his side's 1-2 defeat Rios was restrained by police after running on to the pitch shouting "you son of a bitch" at the referee. He was handed a five-game ban.
Muddy hellA Gold Coast Titans fan spent more than 30 hours stuck in a swamp after taking a short cut following the side's match against Parramatta at Skilled Park last week.
After attending the game on Sunday, the 41-year-old man wasn't rescued until 2.45am on Tuesday, the Gold Coast Bulletin reported.
"When police arrived they searched the area using a spotlight and located a 41-year -old man in the middle of a swamp area, some distance away from the road," police said. "He had sunk into the watercourse and was unable to free himself."
The man was taken to hospital and treated for exposure and cuts.
So very, very cool
Of all the Chris Gayle tweets after his astonishing 30-ball century in the IPL midweek, this one from the man himself sum things up best.
"U seet! Bless up! Lol RT @officialasafa: @henrygayle done dem bredren ... Mek dem know how yaad man handle tings. Lol".
Yes, quite.