Lemanis says his assistant, the sole candidate, would be great for the Breakers.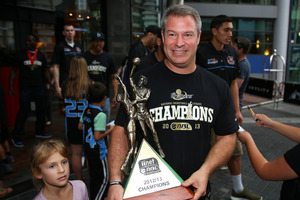 It's the type of employment process any applicant would love because Dean Vickerman is the only head coach candidate the Breakers are considering and he could be installed as Andrej Lemanis' successor before the weekend.
Lemanis was yesterday confirmed as Australia coach after eight years as Breakers head coach. He still had two years to run on his existing deal but the club have long maintained they are about helping players and support staff "follow their dreams" and were supportive of Lemanis' ambition to coach the Boomers.
Vickerman has been alongside Lemanis since 2007, along with academy head coach Judd Flavell, and has already presented his vision to the Breakers board. General manager Richard Clarke said they hoped to have Vickerman confirmed as coach in the near future.
"Dean is clearly our preferred candidate," Clarke said. "We are a development club for both players and coaches so we want to bring through the guys who have contributed to our success.
"At the moment it's a one-candidate process. Providing everything can be worked through, we hope to make an announcement in the near future. This week hopefully. It's not something that needs to be rushed. With Dean, he's ready, he's a Breaker and would bring a lot to the role."
Lemanis endorsed the candidacy of Vickerman, who missed out on the top job at the Sydney Kings in February 2012.
"Dean is ready to coach the club, no doubt," Lemanis said. "He's a fantastic coach who has certainly grown in his time here and I have said over the last couple of years I think he's a head coach in waiting.
"The players all respect him, he understands the Breakers' culture and has a good relationship [with everyone]. He will bring his unique passion and energy and enthusiasm to the job, which will be great for the team.
"If he gets the job, he needs to be allowed to develop his team and style in his way without my hangover or legacy getting in the way. He needs to be given that absolute freedom to do that."
It won't be easy because it's only natural Vickerman will be judged on what has gone on at the Breakers in recent seasons, particularly the past three years when they became only the second club in ANBL history to claim a three-peat. It hasn't always been that way, and Lemanis was handed the job eight years ago with the club in a very different position from the one they are in now.
The Breakers mean a lot to Lemanis, who broke down a number of times yesterday morning in an emotional press conference, but it's the development of the club and people within it that mean the most to the 44-year-old. He said it would be a wrench to leave and he hoped for their continued success.
"Every journey comes to an end," he said. "I'm very excited about the opportunities that lie ahead of me. It's a fantastic journey ahead but I'm a member of the [Breakers] family and you never leave the family.
"[When I arrived] I wanted to make the place better and that's what I want to be my lasting legacy," he said. "When you leave, is the place better than when you came? I think yes, and I'm proud of that.
"What we have proven over time is the club is bigger than any one person. When Kirk [Penney] left everyone thought that would be the end of our success.
"When Gary [Wilkinson] left and we put our faith in Alex Pledger everyone thought that would be the end of our success. But the club is in a very solid position because of the foundations we have laid and it will be the same with me."
- APNZ