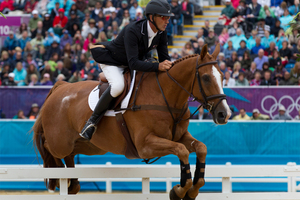 Athletes and teams gear up for the next Olympic cycle and it's the same for eventing horses, with this weekend's Kentucky three day event a chance for Andrew Nicholson to test a couple of his promising mounts.
The world No 1 will be joined in Kentucky by fellow Kiwi Jonelle Richards riding The Deputy and will have two horses at the event - Quimbo and Calico Joe.
Nicholson's top two mounts, Nereo and Avebury, have remained in the UK ahead of next weekend's Badminton event. Quimbo is seen as a horse with great potential, and had considerable success at three-star level last year, but Kentucky will be his first four-star event.
"Quimbo is my pick to win the event,'' Equestrian Sports New Zealand high performance director Sarah Harris said. "This will be his first four-star start, but this is a horse that impressively won the eight and nine-year-old class at Blenheim last season. This is where we see the real talent coming through - these are our next Olympic horses. Andrew will give him the best start possible.''
Last year world No 2 William Fox-Pitt (Great Britain) won Kentucky aboard New Zealand bred thoroughbred Parkland Hawk and, while he won't be starting that horse this weekend, has two other top chances.
He will be among a number of Olympians in the 52-strong start list from seven nations.
It will be Richards' first start at Kentucky, and the first four-star class for The Deputy, a big thoroughbred coming back from a season out with injury.
"This is definitely one of `the' events for our riders,'' Harris said. "It's going to be tough out there, though. Everyone is seeking qualification for the World Equestrian Championships in France next year, and for those with multiple mounts, the key is getting those ticked off early.''
The Kentucky Three Day Event is the western hemisphere's only four-star event and is part of the HSBC FEI Classics. The classics - the grand slam of eventing - sees riders chasing a US$250,000 prize purse and the chance of winning US$350,000 for anyone who can win the grand slam of Kentucky, Badminton and Burghley in succession.
Because Badminton was cancelled last year because of rain, Fox-Pitt has the chance to claim the grand slam at this year's Badminton. Nicholson, who won Burghley last year, would also be going for it at Badminton if he wins at Kentucky.
The first horse inspection at Kentucky is Thursday morning (NZ time), followed by two days of dressage, the cross country and showjumping which is scheduled to finish on Monday morning (NZ time).
- APNZ