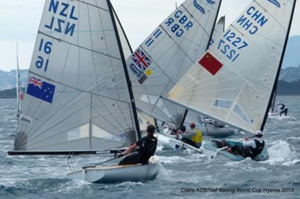 Five New Zealand crews sit inside the top five in their respective fleets heading into the final series stage of the ISAF Sailing World Cup in Hyeres, France.
With the two qualifying days out of the way, men's 470 pair Paul Snow-Hansen and Daniel Willcox slipped from the top of the leaderboard into second behind British sailors Luke Patience and Joe Glanfield who had a perfect day on the water. However the Kiwis, who were 12th and third on day two, have kept it tight as they advance to the next stage of the series.
New Zealand's only crew in the 49erFX women's skiff, Alex Maloney and Molly Meech, improved their overall position to third after three races. The duo, who won silver at the last round of the ISAF Sailing World Cup in Palma, were second, fifth and sixth on day two.
Sam Meech made huge gains in the 113-strong Laser fleet, lifting his overall standing from 12th to third aided by a fourth and a third. Meech is hunting for a repeat of his podium finish in Palma earlier this month.
Also in the single-handed Laser, Thomas Saunders held tight to seventh place and Andy Maloney rose to 13th.
New Zealand feature strongly on the Finn leaderboard as well with Josh Junior wrapping up qualifying in fourth and Andrew Murdoch in fifth. For Murdoch, this was a massive turnaround from day one when he was 20th, claiming an eighth, fifth and eighth in today's competition.
Day three will see all fleets back in action for the start of the finals rounds, which includes three days of racing. From there, the top-placed sailors will duke it out in the medal races in Hyeres on Saturday. More breeze is forecast after a couple of days of light and sometimes patchy winds.
New Zealand standings after day two of the ISAF Sailing World Cup regatta in Hyeres, France, overnight (NZT):
Finn
4th Josh Junior (9, 2, 9, BFD, 11)
5th Andrew Murdoch (NZL Sailing Team) (11, 17, 8, 5, 8)
49er
16th Marcus Hansen and Josh Porebski - 49er (NZL Sailing Team) (8, 15, 22, 4, 5)
49er FX
3rd Alexandra Maloney and Molly Meech - 49er FX (10, 9, 1, 2, 5, 6)
Laser
3rd Sam Meech (NZL Sailing Team) (2, 12, 29, 4, 3)
7th Thomas Saunders (4, 6, 13, 14, 6)
13th Andy Maloney (NZL Sailing Team) (43, 4, 13, 1, 17)
49th Andrew McKenzie (2013 NZL Yachting Trust Youth Team) (3, 39, BFD, 31, 11)
102nd Michael Cate (51, 40, BFD, 52, 30)
105th Jack Collinson (48, 38, 41, 50, 55)

Men's 470
2nd Paul Snow-Hansen and Dan Willcox (NZL Sailing Team) (5, 1, 1, 12, 3)
18th Francisco Lardies and Luke Stevenson (20, 11, 1, 19, 4)
Nacra17
19th Tomer Simhony and Nicole van der Velden (24, 13, 16, 20, 18)
26th Gemma Jones and Jason Saunders (19, 29, 29, 28 19)