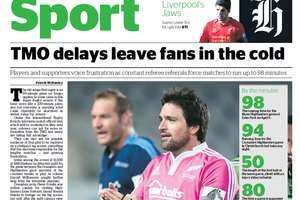 A brief look at the sports stories that are making news this morning.
In the paper
TMO delays leave fans in the cold
The old adage that rugby is an 80-minute game no longer applies. In some cases in this Super Rugby season it has been more like a 100-minute game and not everyone is enjoying what could charitably be described as added value for money, writes Patrick McKendry.
The long game
One of the longest games of the season was the Blues-Highlanders encounter at Eden Park on April 5, a match which lasted 98 minutes as referee Steve Walsh insisted on checking the lead-up to virtually all of the six tries and an instance of foul play by Ma'a Nonu on former teammate Piri Weepu.
Magic crash Oz party in fine style
The Waikato/Bay of Plenty Magic have broken up the all-Australian party at the top of the transtasman league ladder, returning from their bye week to inflict a heavy loss on the Tactix in Tauranga last night.
She said it
"Our timing is still out just a wee bit, so we need to go back and look at that, because when we let the ball go we play good netball," Magic captain Laura Langman.
Lions tour inspires Aussies
The sparkling form of most of Australia's Super rugby teams can be partly explained by the looming Lions tour, says Blues coach Sir John Kirwan.
Big ask
Kirwan, whose team has defied all predictions to top the New Zealand conference at the halfway stage, hopes the balance of power shifts a little on Friday night when the Blues take on the Reds in Brisbane, but concedes they have a real challenge on their hands.
Overnight news
Suarez charged for bite
Luis Suarez found himself in the familiar position of being an outcast today, charged by the Football Association, fined by Liverpool, and rebuked by the government for biting an opponent a day earlier.
What now?
Suarez has until Tuesday at 6 p.m. local time to respond to the charge, with a disciplinary hearing lined up for Wednesday.
FIFA Twitter accounts hacked
Two of FIFA's Twitter accounts were hacked Monday in the latest wave of cyberattacks claimed by Syrian government sympathizers.
Hacked off
A series of corruption allegations were made on the official accounts of FIFA President Sepp Blatter and the World Cup, some linked to 2022 World Cup host Qatar, including one libelous post about the Emir of Qatar.
Coming up
Manchester United aim to clinch a record 20th Premier League title by beating Aston Villa at Old Trafford today. Coverage from 9am.
Jeremy Wells sinks his teeth into the Brendon McCullum's legal action over comments made by John Parker.
Tracey Nelson crunches the numbers from the weekend's Super 15 action in her Stats Don't Lie column. Live on the site after 12.
By the numbers
10 New Zealand's finishing position in the Queen Sirikit Cup amateur golf championship in Taiwan.
27 Miami Heat giant LeBron James' points in their 110-87 win over the Milwaukee Bucks in their opening NBA playoff game.
11 New Zealander Scott Dixon's finishing position in the IndyCar race at Long Island yesterday.
Quote of the day
"I think he is the third best player in the world behind Lionel Messi and Cristiano
Ronaldo."
Liverpool legend Steven Gerrard goes in to bat for team mate and opponent-biter Luis Suarez.