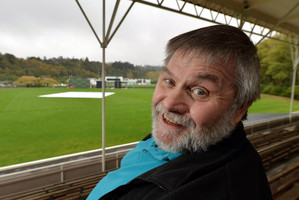 A cricket fan who travelled to New Zealand to watch England play the Black Caps but "didn't see a ball being bowled" will fly out of the country today after facing his biggest test.
Staffordshire man Sam Mansell, 67, and several of his friends flew to New Zealand in late February to watch England play the Black Caps in the Dunedin and Wellington test matches.
During a stopover in Kuala Lumpur, Mr Mansell felt short of breath and pain in his chest, but "like most guys I thought it was indigestion".
The same feelings were repeated on arrival in Auckland and during sightseeing around Queenstown, so he decided to call at the pharmacy in Roxburgh and ask if his blood pressure medication could be causing him problems.
"[The pharmacist] said you have a 1-in-100,000 chance of that, and if I were you I would get yourself into the Urgent Doctors in Dunedin.
"That was very good advice."
An electrocardiogram (ECG) at the Dunedin Urgent Doctors resulted in Mr Mansell being rushed by ambulance to Dunedin Hospital, where doctors later found he had four blocked coronary arteries.
"The surgeon said to me you can go back to England if you want, but you will be going back in a box."
From his hospital bed he could see the trees of University Oval, where the first test between England and New Zealand resulted in a draw, and was visited by his mates who continued with their cricketing tour.
On March 14 - just days after being admitted - he underwent quadruple bypass heart surgery.
Before returning to work at his electronics firm, he hoped to catch some of the cricket series between New Zealand and England this Northern Hemisphere summer.
"Still wouldn't support New Zealand - I am Pommy through and through."