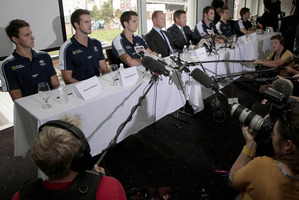 Australia's biggest two Olympic sports, swimming and athletics, have had their annual high-performance funding cut by the federal Government.
Swimming remains the best-funded sport by the Australian Sports Commission, although its annual allocation of A$8.1 million ($9.8 million) for 2013-14 represents a 5.8 per cent drop.
Swimming Australia has been told by the ASC that the savings cannot be made in athlete preparation support.
Instead the reduction reflected a need by SA to reduce overheads and "to demonstrate effective leadership and governance of the sport", according to the ASC.
Athletics Australia's high-performance funding was cut by 3.8 per cent to A$6.5 million in 2013-14.
Football Federation Australia had its allocation cut by 15 per cent.
Sailing received a 16.7 per cent increase in annual funding to $6.3 million on the back of a haul of three golds at the London Olympics.
Other sports to earn a lift in funding were canoeing, rowing, rugby sevens and golf.
The last two will be added to the Olympic programme for the 2016 Games in Rio.
The Australia's Winning Edge programme allocated a total of A$120 million in annual funding, with more than A$100 million of that going to high-performance programmes.
Paralympic sports also earned a boost of 14 per cent on the back of a successful campaign last year in London.
The ASC is aiming for a top-five finish at the 2016 Olympics and Paralympics, top 15 at the 2014 Winter Olympics, first place on the medals table at next year's Commonwealth Games in Glasgow and 20 or more world champions a year.
ASC chairman John Wylie said the funding allocations announced yesterday reflected the plan to move Australian sport from "world class to world best".
"Our investment decisions were based on a set of principles that assessed sports' ability to provide sound evidence that they can contribute to the targets," said Wylie. "We have also asked that sports be more accountable for best practice governance and commercial performance."
It was a stance supported by Australian Olympic Committee president John Coates.
"There will always be winners and losers under the new strategy but we fully support Winning Edge and its goals," Coates said. "Sports are now more accountable and they are not only judged on performance but governance."
- AAP