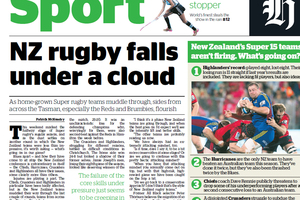 A brief look at the sports stories that are making news this morning.
NZ rugby falls under a cloud
This weekend marked the halfway stage of Super rugby's regular season, and as the dust settles on another round in which the New Zealand teams were less than impressive, it's worth asking - what's going on in our game, asks Patrick McKendry.
Truth hurts
Injuries are playing a part. The Chiefs, Crusaders and Highlanders in particular have been badly affected, but as the New Zealand teams muddled their way through the last couple of rounds, teams from across the Tasman flourished.
Mystics pick up first win
After a week in which claims of in-fighting emerged, the Northern Mystics have picked up their first win of the season, causing an extra-time boilover against the Central Pulse.
Captain steps up
Captain Maria Tutaia, who rallied her troops strongly all night, fittingly slotted the goal that sent the match to overtime and later the winning shot to deliver the Pulse's top four credentials a massive blow.
Overnight news
Suarez in biting incident, scores equaliser
The two sides of Luis Suarez were on full display today as the Liverpool striker first bit an opponent's arm and then scored a last-minute equaliser for Liverpool in a 2-2 draw against Chelsea in the Premier League.
Once bitten...
The Uruguay international tussled with Branislav Ivanovic in Chelsea's penalty box and television pictures showed Suarez biting the top of the defender's right arm. In 2010, Suarez was banned for seven matches for biting an opponent while playing for Ajax against PSV Eindhoven in the Dutch league, earning him the tag 'Cannibal of Ajax.'
Vettel wins Bahrain GP
Sebastian Vettel won his second straight Bahrain Grand Prix on Sunday, easily beating Lotus drivers Kimi Raikkonen and Romain Grosjean in a dominant display that will bolster his chances of winning a fourth consecutive championship.
Ferrari woes
It was a day to forget for Ferrari, with both Fernando Alonso and Felipe Massa encountering problems early on that dropped them out of contention.
Spurs stun Man City with late comeback
Gareth Bale fronted a late fightback by Tottenham in a 3-1 victory over Manchester City today, giving runaway leader Manchester United a chance to wrap up the Premier League title tomorrow.
Champions League implications
Spurs stayed fifth but a first victory in four league games saw them close in on London rivals Arsenal and Chelsea in the race for Champions League qualification.
Djokovic beats Nadal to win Monte Carlo Masters
For the first time in nine years, the Monte Carlo Masters trophy belongs to someone other than Rafael Nadal.
New Master of Clay?
Nadal won his 46 previous matches and the last eight titles at Monte Carlo - beating Djokovic in last year's final - and his last defeat here was against Guillermo Coria 10 years ago.
Coming up
Super Rugby: Who's hot and who's not. Patrick McKendry's wrap of the Super 15 results will be live on the site at 9.30am.
By the numbers
13 The number of successive Bundesliga wins by Bayern Munich, after belting Hannover 6-1 yesterday.
91A record-equalling number of players who made the cut at the PGA Tour's Heritage tournament yesterday.
46Rafael Nadal's successive wins at Monte Carlo ahead of this morning's final against Novak Djokovic