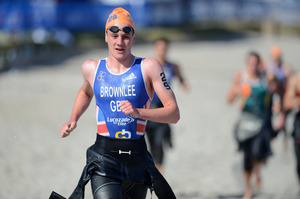 Winner Alistair Brownlee. Photo / Delly Carr
British Olympic champion Alistair Brownlee dominated the opposition in the San Diego leg of the ITU world triathlon series yesterday.
Having skipped the opening leg in Auckland, Brownlee simply crushed the opposition, winning with a 20m walk to the finish, with South African Richard Murray second and Joao Silva of Portugal third.
Brownlee was just supreme, in an amazing first ITU race since his Olympic gold.
He clocked 1h 47min 16s, heading home Murray by 22 seconds, with Silva a further 14s back.
Clark Ellice was the first New Zealander home, in 12th place in 1:49.08, while Ryan Sissons was 21st in 1:49.37 and Bryce McMaster 31st in 1:50.57.
Spain's Javier Gomez, who won the Auckland leg, was down the track in eighth, in 1:48.38.
"It's only this last week I have started to feel good on the run, that is why I tried to push on the bike to see if I could win it there," Brownlee said. "I honestly didn't know what to expect, I actually started pretty slow, the first 'k' I tried to go pretty easy, and then push on after that.
"I felt pretty good, obviously [brother and world series winner last year] Jonny wasn't racing, which makes a big difference, and Javier Gomez wasn't on form and they are the two big competition really so I had it a bit my own way I suppose."
Tri NZ national head coach Greg Fraine described Ellice's effort as "awesome".
"He is stepping up and showing us what he is made of which is good, that is what we want to see from him and he raced strongly again today," Fraine said.
Ellice was pleased with his performance, one that moves him to eighth on the overall rankings.
"I'm definitely happy with the result here. It is a classier field than Auckland and not being a straight flat out runner but being able to produce a run like that today after having a go on the last two laps on the bike, I am happy."
•Andrea Hewitt returned to something closer to her best form with a sixth placing in the women's elite race.
The race was dominated by a breakaway group on the bike but the real action came on the final 3km of the run, when winner Gwen Jorgensen of the US surged past Australian Emma Moffatt and world U23 champion Non Stanford of Britain also sprinted past the Aussie within sight of the finish line.
Hewitt was in the main chase group on the bike and the large size of the group allowed the leaders to establish a lead of 61s heading out on to the run.
Despite struggling through the opening stages on foot, Hewitt got stronger the longer the run went and hauled in many of the athletes in front of her.
Hewitt moves to fifth overall in the series. Athletes count their best four scores throughout the season plus the London Grand Final towards their final world ranking.
Anne Haug of Germany retains the overall lead after finishing fourth to go with her win in Auckland.