Too much space and possession conceded as Argentina come out fighting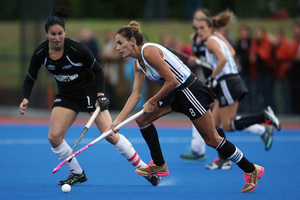 New Zealand bookended their two Four Nations tournaments with their poorest performances, according to assistant coach Greg Nicol.
Having won the first tournament in Whangarei a week ago, New Zealand lost the final of the second tournament, belted 5-1 by world No2 Argentina in Tauranga yesterday.
They were 4-0 down at halftime, having conceded far too much space and possession and from that point it was always a stretch to get back in the contest once Argentina had the bit between their teeth.
"Argentina came out fighting, wanting to win, they had more energy than us, beat us to the ball," former South African striker Nicol said last night. "We were probably a bit timid and when you give a quality side like Argentina as much space and chances as we gave them in the first half, it's bloody hard to come back."
The Argentine show was run by their champion attacker Luciana Aymar, who with her teammates was mobbed by Argentine fans at the final whistle in a torrential thunderstorm.
She scored one goal, after a long run starting wide on the right. As the world No3 Black Sticks' defence parted like the Red Sea, Aymar strode through to grab her chance.
She set up another goal with a long, raking pass and the seven-time world player of the year was the top act on the park.
"She is something special," Nicol said. "A lot of people talk about her getting old and retiring but she certainly showed retirement is not something she's interested in. She cut us open a fair few times. She's still class."
Argentina's goals came from Delfina Merino, with two, Carla Rebecchi, Aymar and Giselle Juarez, while New Zealand's response was from Cassandra Reid.
New Zealand began the first tournament with a 4-3 loss to Korea. In between there were some strong performances, notably the 3-0 win over the same opponents to win that Whangarei final and a 2-1 win over Argentina in the far north.
The aim of the tournaments was to help select the squad for the World League semifinal in Rotterdam in June.
The squad will be named late this week. The players, after a week off, will be back in training before flying to England on June 1. They have three warmup internationals against England before travelling to the Netherlands.
In the playoff for third and fourth, the 10th-ranked United States surprised with a 1-0 win over eighth-ranked Korea. The only goal came from Lauren Pfeiffer.
New Zealand beat Korea 5-1 on Saturday, after heavy rain led to a halt at 0-1. The delay did striker Katie Glynn no harm, as she bagged four goals upon the resumption, with the other coming from Olivia Merry.