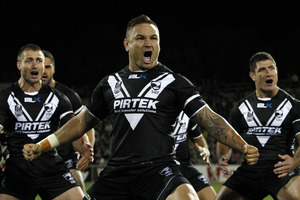 New Zealand rugby league bosses are hoping to arrange a match involving a New Zealand Prime Minister's XIII against their Australian counterparts as part of the Kiwis' World Cup preparations.
The Kiwis' calendar is clear until their World Cup opener against Samoa on October 27 but they are in talks to play a warm-up game against a team from the Pacific. New Zealand will also face France and Papua New Guinea and will want to keep their powder dry against their three pool opponents but Tonga, Fiji and the Cook Islands will also play at the 14-team tournament.
Kiwis coach Stephen Kearney is also hopeful a match can be arranged between a New Zealand Prime Minister's XIII and the Australian PM's XIII featuring World Cup contenders whose NRL seasons end before the final stages of the NRL playoffs. The Australian side play Papua New Guinea annually in Port Moresby.
The Kiwis' lack of preparation time together has often been cited as a key reason for Australia's stranglehold on the Anzac test, which they haven't lost since 1998, and the Kangaroos again prevailed in Canberra on Friday night 32-12.
Samoa have put together a powerful squad for the World Cup, including Roy Asotasi, Steve Matai, Jeff Lima, Junior Sa'u, Kalifa Faifai Loa, Antonio Winterstein, Eddy Pettybourne and Ben Roberts, although they suffered a 36-4 thrashing at the hands of fierce rivals Tonga at Penrith's Centrebet Stadium on Saturday.
"To play Samoa first is a tough ask,'' Kearney said. "They are going to have a good team. Ideally, you would have liked to play them at the back end of pool play so you could build momentum. We have to hit the ground running because we don't have time to warm into it. We have to focus on that game because there might not be a back end of the tournament if you don't get it right.
"We will definitely be having a warm-up game. It's just a matter of where and who against. It's what is best for our preparation. I would like to play over in the UK before the tournament. We are working through that at the moment.
"There could also be a possibility of a Prime Minister's XIII against an Australian XIII, like the team they take up to PNG. We're looking at that possibility.''
A detailed programme for the 35-40 players in consideration for the World Cup will be put together and regular contact made with the leadership group.
Decisions will also need to be made around the makeup of Kearney's coaching group, with Tony Kemp's resignation because of allegations of sexual harassment creating a vacancy. Kemp was part of the high performance team and also acted as team manager.
Assistant coach Tony Iro stepped into the manager's role for the Anzac test but will not be able to do both jobs at the World Cup and Kearney is reviewing his options.
He leaned on former Australia coach Wayne Bennett as a mentor for the 2008 World Cup campaign when they claimed their first world title and has used him as a sounding board since.
"Having someone like Wayne involved, because it was my first year as a head coach, gave me and the lads confidence,'' Kearney said. ``I am now five years more experienced but that might be something we look at - but not Wayne.
"Tony Iro might take up the manager's role now so I will need some help on the coaching front. We will look at that over the next week or two.''
- APNZ