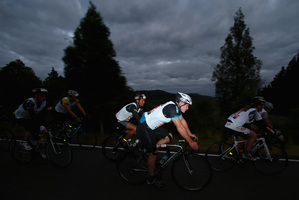 Olympic gold medallist Joseph Sullivan has received a reprieve from Rowing New Zealand.
In a rare gesture of selection compromise, Sullivan will travel with the team to race the single sculls at the Eton Dorney and Lucerne World Cups, as well as the Henley Royal Regatta in June and July.
He originally missed selection completely. Sullivan has since been training with the national squad but has now been officially assigned a boat. He will return home for further squad trials in July, when Mahe Drysdale is expected to come back into the reckoning, but it also buys him time to prove the original selection wrong.
What makes this decision close to unique is that it has come after Sullivan broke RNZ's famed omerta culture, where silence is preferred to any form of public critique.
Speaking to the Waikato Times, Sullivan spoke of what he felt were selection double standards, confused communication and, at 26, his contemplation of retirement.
Sullivan deserves credit for articulating his thoughts in a mature fashion; RNZ deserves credit for having the sense to massage him back into the programme rather than smashing his 2016 Olympic dreams with an iron fist for showing 'insolence'. Sullivan will have learned his lesson about returning to the trial situation lacking fitness.
Yes, he had not long completed a Coast-to-Coast but his times in RNZ's prognostic ranking system let him down. Yes, he was fit - but not rowing-fit.
Sullivan's slide in form wasn't helped by the simultaneous emergence of a strong group of scullers. For example, the Southern regional performance centre crew of Hayden and Nathan Cohen, Fergus Fauvel and Nathan Flannery were picked en masse after winning the quadruple sculls red coat at the national championships. Sullivan has since been recruited to cover the bow seat of the quad while Flannery recovers from injury.
RNZ also deserve a bouquet for embracing Marlborough's first Olympic gold medallist so he didn't risk driving down the newly-named Joseph Sullivan Drive in Picton into disillusioned oblivion.
Such an approach avoids a repeat of the difficulties Danyon Loader faced when adjusting to new social demands on return from Atlanta with two Olympic swimming golds. Games medals shouldn't guarantee a job for life or a sense of entitlement but athletes deserve respect for competing to such a level.
Fortunately, in latter years, the New Zealand Olympic Committee recognized Loader's contribution by employing him in an ambassador role.
The latest chapter completes a tumultuous year for Sullivan. He went to Europe as a defending double sculls world champion last May; finished last in the B final of the first World Cup; fixed a problem with an over-curved oar; won Olympic gold; had a road named after him in his home town; won the Halberg Award for sports moment of 2012; thanked his parents by helping gather the funds to renovate the family home; did the Coast-to-Coast, got dropped from the New Zealand rowing team and reinstated.
However, perhaps his lasting legacy will be to rowing communications. He spoke up, provided constructive criticism, generated robust debate and didn't get excommunicated. That's progress.