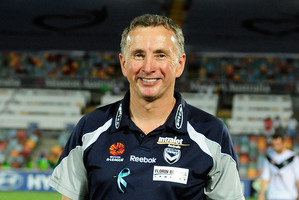 A former Manchester United player and an A-League coaching legend are among those in the mix for the vacant Phoenix coaching position.
Senior officials from the Wellington club have been in England over the past week, completing a second round of interviews with candidates who made the final shortlist.
After hundreds of applications, the club had earlier compiled a shortlist of 12 to 15 names. That has been whittled down to four or five possibilities.
Despite being mentioned in reports, former Real Madrid star and Mexico coach Hugo Sanchez is not in contention.
It is understood that there are no New Zealand-based applicants in the running.
The identity of the former Manchester United player is not known but he has apparently held coaching positions within and outside England.
Former Melbourne Victory coach Ernie Merrick is also believed to be on the final list.
He twice did the A-League double (minor premiership and grand final) with the Victory, the only coach to achieve such a feat. After leaving Melbourne, he coached the Hong Kong national side but he resigned from the post in October last year.
He is a free agent but he has also been strongly linked with the vacant Adelaide United job.
Chris Greenacre, who filled the role on an interim basis after the resignation of Ricki Herbert in February, did not apply for the position but is likely to be retained in some capacity.
For the power brokers at the Phoenix, the choice will come down to one key decision. Do they plump for someone with proven A-League pedigree or look at an arguably bigger name with a European or English coaching background but no experience in Australasia? It is a crucial dilemma, as there are merits to both arguments.
The Phoenix players are still in training but will be released for their six-week break on Thursday. It had been hoped that the new man would be in charge by then, to address the players before they took leave but that now seems unlikely.
There are seven players off contract - New Zealand internationals Leo Bertos, Tony Lochhead and Ian Hogg, as well as Australians Isaka Cernak and Jimmy Downey, and imports Dani Sanchez and Alex Smith. Their futures are unlikely to be resolved until May.
Carlos Hernandez, a key player at the Victory under Merrick, has been signed by the Phoenix for the next two seasons.