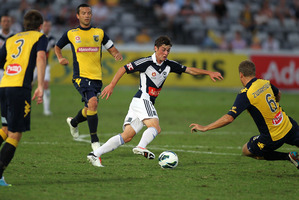 Marco Rojas' final decision on his future has come down to two European clubs.
Though his management team has received offers and enquiries from many clubs across the continent in recent months, the A-League MVP is weighing up two long-term contracts with prominent continental outfits.
As first reported by the Herald on Sunday in January, his most likely destination remains the Bundesliga. Stuttgart have previously tabled an offer and remain the favourites but there has also been interest from Borussia Dortmund, Nuremberg and Wolfsburg.
Meanwhile, a prominent European football agency, which has previously represented many worldwide stars, is now understood to be handling the negotiations. Toldra Football Consulting, which has represented former Chilean star Ivan Zamorano as well as Real Madrid and Spanish legend Raul Gonzalez among many others, is understood to have been employed by Rojas' father and manager Rodi.
The decision to move north now is a gamble for Rojas. There is no doubting his ability - he scored 15 goals this season, had eight assists and was the first in A-League history to be named Player and Young Player of the Year.
However, the A-League is regarded as entry-level professional football. The next step is leagues such as the United States' MLS and the J-League in Japan. Smaller European leagues in Switzerland, Belgium and Holland, and the lower leagues in England perhaps represent the next rung. The final step is the Premier League, La Liga, Serie A and the Bundesliga.
The few New Zealanders who have succeeded at those dizzy heights served sizeable apprenticeships. Ryan Nelsen came to Blackburn via the US, a similar path to Simon Elliott at Fulham. Winston Reid played professionally in Denmark for almost five years and also had a vital year in the Championship before becoming the seasoned professional he is now; Wynton Rufer spent seven years in Switzerland before his transfer to Werder Bremen. Chris Wood, who looks the next most likely, has served a long apprenticeship in the Championship and League One.
Rojas has also thrived under Victory coach Ange Postecoglou this season. Previously just a right winger, Rojas has been employed in a variety of attacking positions. He is also guaranteed a spot at the Victory, compared to being in a dogfight in Europe among 25 or 30 other professionals.
The main concern remains over the ability of the 1.68m Rojas to handle the physicality of the game in Europe. The slightly built livewire has learned to look after himself and is deceptively strong but still lacks the physical presence of many diminutive footballers.
However, the Bundesliga could be a wise choice. Clubs are run on sound business principles and display more patience than in some of the other big leagues. They have an excellent record of developing players, a winter break and most clubs have well established feeder systems with lower-division teams.