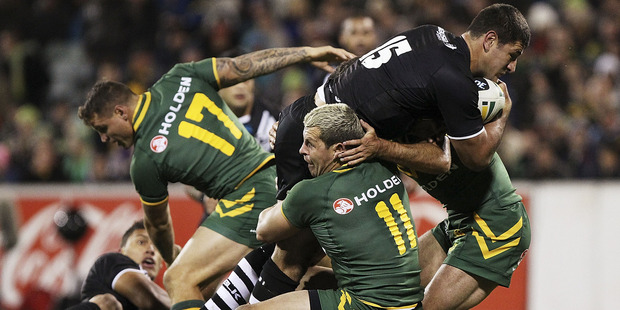 Those who bemoan the long losing sequence of the Kiwis in the Anzac test and question its validity don't understand the nature of sport.
It's about measuring yourself against the best. Ireland and Wales have much worse records against the All Blacks but there are no calls from either side for those fixtures to be canned. Chile didn't win a single match at the Fifa World Cup between 1966 and 2010 but that was never a hot topic in Santiago and let's not even start on baseball's Chicago Cubs or Boston Red Sox.
The Kiwis have lost far more test matches against the Kangaroos than they have won and that will always be the way, given the two countries' pools of players and resources. It's a simple equation - how many of the Kiwis' 17 would walk into the Australian line-up?
During the occasional golden times - 1971, 1983-85, 2005-06 spring to mind - the answer was quite a few; from the team on Friday night, it might be not many, if any.
This current edition in black and white also have the additional challenge of facing Cameron Smith, Cooper Cronk and Billy Slater - once-in-a-generation players who have ruled the sport.
What's wrong with a loss? Before Friday night, the last few transtasman test matches were close, exciting encounters, decided on one or two key plays.
Defeats can provide memories, too - who will forget the John Ribot and Carlaw Park heartbreaker in 1985, Henry and Robbie Paul bamboozling the Australians in 1999 or the golden-point thriller in Sydney in 2006?
The country is accustomed to the All Blacks' incredible deeds but is it really that riveting to watch them cruise past the likes of Italy and Scotland?
The Kiwis win sometimes, on what are usually highly memorable occasions. The Kiwis win because the collective can sometimes be greater than the sum of the individual parts.
But, for such victories, everything has to go right; mistakes limited, chances taken and key Kangaroos have to be forced into having an off game.
Coach Stephen Kearney has instilled discipline into the Kiwis and a belief that they can compete for long periods. But he has also tended to select players, especially in the backline, based on their ability to contain rather than create.
This Australian side is good for at least two to three tries in every match, so Kearney and his brains trust have to find a way to unearth more attacking potential while still limiting errors.
The current Kiwis team is a young side on the rise, with an average age five or six years lower than their Australian counterparts. We could be on the cusp of another golden era but that won't be achieved by not playing.