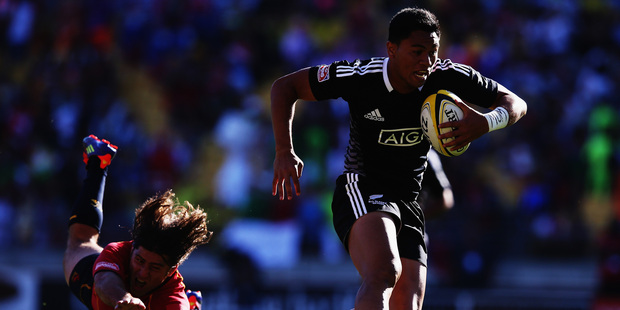 Seven might be provincial rugby's lucky number. The abbreviated game's elevation to the Olympics has provided the more entrepreneurial New Zealand unions with a potentially rich and lasting revenue stream.
A serious load of cash is being poured into sevens around the world. The IRB alone are expected to tip $270 million into development programmes over the next four years, while it is estimated that the global value of sevens will rise $90 million a year for the foreseeable future - a figure that could increase significantly after the sport makes its inaugural Olympic appearance in Rio de Janeiro in 2016.
Canterbury has hosted a delegation from Brazil, Taranaki a group from China and Bay of Plenty is the latest to have jumped to cash in, announcing this week ambitious plans to become a global centre of excellence for sevens. The union has already secured the rights to host the national sevens tournament for the next two years and is the preferred training base for the All Black sevens side ahead of world series events.
They have stretched that ambition into touting offshore to host sevens teams; the union has facilities, coaching expertise and tourism capacity - so why not sell it to the world? Why not unashamedly take advantage of New Zealand's perceived place as leaders in all things rugby?
Nothing has been agreed yet but talks are ongoing and in the following months, expect teams from China, Malaysia, Sri Lanka and Holland to wash up in the Bay.
"We have aspirations for this [sevens centre of excellence] to support our game," says Bay of Plenty chief executive Mike Rogers. "The level of dollars we could make ... we don't know ... but we do believe that if we take money in, then it can be reinvested in our game at all levels."
The last decade has been tough on the provincial game. Some of their hardship has been self-inflicted, driven by an inability to curb expenditure and get with the times. But even the financially prudent have barely stood a chance. The national provincial championship has been bumped down the hierarchy by Super Rugby and some unions left on the brink of insolvency.
The sudden global blossoming of sevens has emerged as a potential saviour; an extra hundred thousand dollars a year could make a massive difference to a provincial union.
That's probably being conservative. Rogers says there is phenomenal interest in the game around the world. From school programmes in Asia to collegiate teams in the United States, sevens is growing fast. This is the brave new world in which Olympic gold medals are up for grabs.Thelandscapehas changed; a host of new nations are set to dip their toe in water which previously held little interest.
Gaining Olympic status has seen sevens earn increased Government funding in a handful of nations with the potential to become heavyweights. Russia, Canada, the US and China are the four to watch in regard to becoming medal contenders in Rio 2016. Others with little or no track record in rugby are expected to have a tilt at Rio, such as Germany, Spain, Holland and Portugal. Even New Zealand has placed the goal of winning two gold medals in Rio ahead of securing the 2015 World Cup.
One of the otherbig differences now is that sevens is no longer viewed as a derivative of rugby. It is a sport in its own right and there there is no expectation that those who play it should graduate to the 15-man game.
That mindset has made it easier for new nations to give it a try and strengthened New Zealand's position to sell their expertise.
The less established the nation, the more likely they will seek ex-ternal help.
Selling expertise to nations who are aspiring to prevent New Zealand achieving its goal of winning two gold medals may sit uneasily with some. But Rogers says that side of the equation has been discussed and rationalised.
The emerging nations are going to be helped by someone - so why not let it be New Zealand, where there is commercial gain to be had?
"We need to be conscious of that," he says in regard to helping other nations improve, "but some of the nations we are talking about are a long way off [being serious threats]."