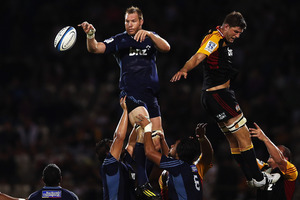 It's a dodgy knee rather than dodgy form that stands between Ali Williams and a career extension. It's that same iffy knee that will determine whether he can preserve his coveted All Black place this year.
The veteran lock has been one of the surprise packages of 2013 - his performances have invoked memories of his younger self, while his captaincy has been largely inspiring.
The Blues' renaissance has much to do with Williams' renaissance. He hasn't necessarily learned new tricks, just remembered how to do some of his best old ones. Williams is once again the aerial giant he used to be. His capacity to cover the ground is back to historic levels and there is clout and presence when he takes to his tighter chores.
Not bad for someone who looked like they were not much more than a bag of heavy bones last year; not bad for someone whose reward for long and exemplary service was a giant pay cut this year. Williams is back - a genuine force at this level again but for how long?
See him between games these days and he hobbles along, his knee giving him great amounts of grief. See him straight after a game and he'll have much of Antarctica strapped to that troublesome joint. Who knows how long he's got before his knee goes on permanent leave?
Surgery is not thought to be an option; his problem is degenerative. His knee is living proof that, when a movable object spends a decade hitting irresistible force, the latter comes off best.
This uncertainty casts doubt on what path his future career will take as he's off contract this year. All Black coach Steve Hansen picked Williams last year after the big lock chased shadows from February to June. It would be a little cruel and unjust to not pick Williams now that he's deserving a spot.
Williams, should he maintain his form, will almost certainly be selected by the All Blacks. Here's where the vicious cycle begins, though. To maintain his form, Williams has to play and the more he plays, the greater stress he puts on his knee.
The All Blacks might wonder what Williams will have left by June - only Richie McCaw is good enough to get away with playing on one leg. His best option is smart management between now and the French series.
He's resisted so far. He's revelling in the captaincy, feels an obligation to be an 80-minute man and go the distance with the troops.
Admirable, but not particularly wise in terms of helping his longevity. The Hurricanes game last week was a classic case where he could have left the fray early - the game was over after 65 minutes.
There is little doubt that, if he can make the All Black squad, then he'll sign on for more next year.
"We certainly want to keep him," says Blues coach John Kirwan.
At 31, Williams knows this will be his last chance to cash in offshore, should that be his fancy. But, with multiple business interests in New Zealand and the lure of being the man to lead the Blues to the better future they appear capable of now enjoying, the prospect of foreign riches doesn't hold much appeal.
Everything comes back to that knee of his. He won't be an All Black if he can't run. He won't be able to captain the Blues if he can't jump or get around the track.
The Blues are doing what they can to build their locking stocks for next year. They will be losing Anthony Boric who is off to Japan and they know that if they have another big man in the mix, a tight, grinding, bruising lock, then they can manage Williams' workload next year.
They need him on the field. They want him on the field but not for every minute of every game.
"It's hard to find big men, though," says Kirwan. "We are looking and talking to people but most of the established guys are already contracted."