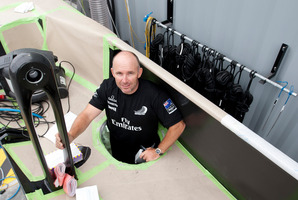 The second day of racing in the America's Cup World Series in Naples started with a bang for Team New Zealand and ended with them sitting second overall.
In the first action of the day, a match race with Luna Rossa Swordfish, Dean Barker and his crew got off the start line and a penalty on Francesco Bruni allowed the New Zealand crew to round the first mark with a slim lead.
The real drama of the race came at the top mark, though. Having led throughout the upwind beat, the Kiwis approached the top mark zone with their nose in front on starboard tack.
But then the Italians, coming in with pace on port, dramatically crashed into the side of Team New Zealand's AC45.
"We were sailing a pretty nice race until the top mark and Luna Rossa came in with buoy room," said tactician Ray Davies. "It was touch and go whether we were going to cross them and their only chance of winning the race was to stick it in there - and they did."
Team New Zealand rounded the mark in front but the umpires judged the Italians bow reached the mark zone a just prior to the Kiwis, and had therefore gained the right of way a moment before the collision.
Dean Barker and his crew were penalised down the final run by the umpires, effectively sealing their fate and preventing any chance of coming back into the race.
"From there it was pretty hard to get the penalty done and win the race," Davies said.
In the ensuing fleet races, Team New Zealand had to make the best of bad situations. In both races, Team New Zealand was across the line prematurely but the team showed the fighting spirit for which they are renowned, battling their way back through the fleet to gain a respectable fifth and third to leave the crew in second equal place in the overall standings.
"As a positive, we salvaged some good results out of pretty bad situations," Barker said. "The boat is going well and the guys are sailing well.
"We have got a lot of work to do around the start line, because it is not acceptable being over twice in two starts. But if we can sail this badly and be in second place just two points off the lead, then if we can get it together we will be dangerous."
Standings after four of seven scheduled races in the America's Cup World Series in Naples:
1. Oracle Team USA (Tom Slingsby) - 38 points
2. Energy Team (Yann Guichard) - 36
3. Emirates Team New Zealand (Dean Barker) - 36
4. J.P. Morgan BAR (Ben Ainslie) - 35
5. Luna Rossa Piranha (Chris Draper) - 33
6. Luna Rossa Swordfish (Francesco Bruni) - 23
7. Artemis Racing White (Charlie Ekberg) - 21
8. HS Racing (R. Hagara/H.S. Steinacher) - 17
9. China Team (Mitch Booth) - 14
- APNZ