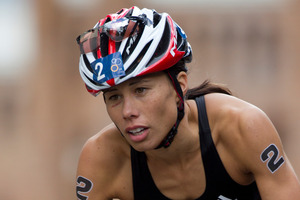 Andrea Hewitt returned to something close to her best form with a sixth place finish at the latest round of the ITU World Triathlon Series in San Diego today.
The race was dominated by a breakaway group on the bike but the real action came on the final 3km of the run, when winner Gwen Jorgensen (USA) surged past Emma Moffatt (AUS) to take the win.
Hewitt was in the main chase group on the bike and the large size of the group allowed the leaders to establish a lead of 61 seconds at the start of the run. Despite struggling through the opening stages on foot, Hewitt got stronger the longer the run went on and hauled in many of the athletes in front of her.
After struggling with the effects of concussion in Auckland a fortnight ago, it was a stronger performance from Hewitt but the Cantabrian was left with mixed emotions.
"It was tough from the start with a breakaway after the swim," she said. "We tried to work hard on the bike but then the group behind caught and, with a big group, it was difficult to know what was going on and you had to conserve your energy.
"When I got on the run I didn't feel amazing at the start, I couldn't go out with the front girls and struggled for first 500m, then found my rhythm.
"I'm still disappointed that I couldn't run with the lead girls. That is what I like doing - I like running out hard and at the front. It was a different race for me, it probably looked like I was more conservative on the run but I couldn't go out as hard as I normally would today."
Jorgensen made history in becoming the first American woman to win a World Triathlon Series event and, in doing so, took out the United States national championships. Germany's Anne Haug retained the overall lead in the series with a fourth place to go with her win in Auckland two weeks ago, while Hewitt moved to fifth in the series.
Ryan Sissons, Clark Ellice and Bryce McMaster will feature for New Zealand in tomorrow's men's race.
- APNZ