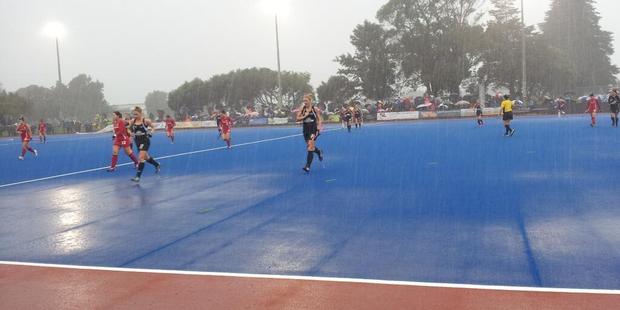 The Black Sticks women have secured a spot in the finals against Argentina after a 5-1 win against Korea in the Four Nations.
The match resumed after it was earlier suspended due to torrential rain the weather.
The Black Sticks' Katie Glynn scored four goals and Olivia Merry scored one.
Earlier, the Black Sticks tweeted "Play has stopped due to rain. Players run off the field!" and "Play has been suspended at Blake Park for an hour."
The game was subjected to a torrential downpour which led to play between the Kiwis and Korea being called off.
Korea led 1-0 at the time and would have been awarded the match if the weather failed to clear.
Earlier, the umpires had to be evacuated from their apartment due to the flooding.
The Black Sticks match started at 3pm.
It will be the third time in ten days that the Black Sticks and Korea will have met, having recorded a win apiece so far.
Black Sticks midfielder Anita Punt says they have seen their game plan works, now they just have to execute it.
"Hopefully we'll just get out combinations working well and use our speed, go round the outside.
"We rank number three in the world so hopefully we can pull out the win."
Punt says they will use the same game plan they took into the final of the first stage, which they won. "We know a bit more about them and our strategy worked in the last game.
"So we're just going to go out there, put everything out there, and prove to them that we'll keep beating them."