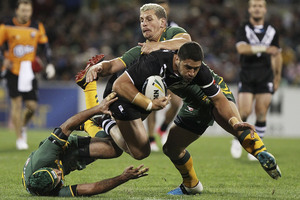 CANBERRA, AUSTRALIA - APRIL 19: Jesse Bromwich of the Kiwis is tackled during the ANZAC Test match between the Australian Kangaroos and the New Zealand Kiwis. Photo / Getty Images.
Michael Brown of APNZ looks at five things we learned from the Anzac test
1. The Kiwis can still win the World Cup
For as good as Australia were in the second half, as they scored five tries and clinically took advantage of a wealth of possession and territory, they came under considerable pressure in the first half and looked vulnerable. This severely-weakened Kiwis side were not supposed to be able to live with a Kangaroos outfit stacked with class all across the park but they not only did that but also could have held an 18-6 halftime lead. There are a lot of ifs, buts and maybes but the Kiwis would do well to remember what that was like and remember what Australia coach
Tim Sheens said afterwards. ``The boys had that kangaroo-in-the-headlights look,'' he said. ``They had the better of the game [in the first half] and it could have been anything.''
2. Two video referees can still get it wrong
Four times referee Ashley Klein sought help from the video referees for rulings on possible tries and four times they found in favour of Australia. One was definitely not a try to the Kiwis but the other three were contentious. Alex Glenn looked like he grounded the ball legitimately _ slow motion replays can often make it look like the player loses control of the ball _ and Greg Inglis' try could have been called back for either obstruction or a Billy Slater knock-on. They were all crucial decisions which had a big bearing on the outcome of the match. ``I'm not
going to blame the refs,'' stand-in Kiwis captain Kieran Foran said. ``We went out there in the second half and let ourselves down. It wasn't the refs. But it would have been nice for a few calls to go our way.''
3. New Zealand's depth is building
Not that long ago, the New Zealand selectors often had to scratch around to field a side. Individuals were often played out of position, especially in key positions, and it made for ugly results. But a Kiwis side missing the likes of Sonny Bill Williams, Benji Marshall, Jeremy Smith and Simon Mannering gave Australia a fright last night. There were only a handful of Kiwis who had played more than 10 tests and they were led by a 22-year-old playing just his ninth international. "I think there are some real positives to take out of it,'' Kiwis coach Stephen Kearney said. "I think what the lads showed in the first half was enough to suggest there's a great deal of potential in this group.''
4. You have to play for 80 minutes to beat Australia
New Zealand's first-half performance was hugely encouraging, but it was only one half. Once Australia got their noses in front they gathered momentum and ruthlessly exposed New Zealand's defences. The Kiwis' resolve also waned, which was a concern. You certainly can't invite trouble by gifting them possession and territory through silly penalties and errors. ``There were individuals who let themselves down and that was the point of my talk in the sheds [afterwards],'' Kearney said. ``If we want to be a side that challenges Australia every time we play them, we have to play for 80 minutes.''
5. Benji has a fight on his hands
Benji Marshall is still a shoo-in for the World Cup squad but his starting position is coming under increasing pressure with the continued emergence of Kieran Foran and Shaun Johnson. The pair are both 22 but have big futures in the game. Foran even captained the Kiwis last night in the absence of the injured Simon Mannering. Marshall's form for both club and country has been patchy in recent times and there is now a legitimate alternative in the halves combination. Foran enjoyed playing in his more natural five-eighths position and the added responsibility without Marshall around and Johnson grew into his work, including a 40/20 and a couple of tip-on passes. Defensively Johnson was vulnerable, missing five tackles, but it was the same number as Johnathan Thurston who was largely anonymous.
- APNZ